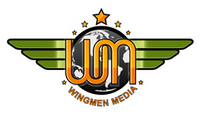 In these times, it is critical for businesses to survive
USAFA, Colorado (PRWEB) March 5, 2009
Divinity Star Enterprises, LLC, a provider of internet marketing and ecommerce solutions for business and nonprofit organizations, today announced its launch of Wingmen Media, LLC, to help businesses face a rough economy and remain competitive in the online advertising marketplace.
Based in Colorado, Wingmen Media offers customers internet advertising with a special focus on full service marketing campaign management and co-registration lead generation.
Wingmen Media's "pay-for performance" advertising eliminates much of the risk associated with traditional advertising. Businesses can promote their products and services, and increase their brand awareness, yet only endure cost when they acquire a customer lead. Such pay-for-performance marketing solutions will help businesses and nonprofit organizations survive during the down economy.
"With the addition of Wingmen Media, we've aligned our service offering to mirror the needs of business owners during this weakened economy," said Dan Rudden, Chief Executive Officer at Divinity Star Enterprises.
Divinity Star recognized the need for businesses to be able to align themselves with supportive service providers and media vendors in today's market, Rudden said. "Wingmen Media was established to provide business owners with a strong ally and advocate that is willing to fight alongside them when doing business. We understand the economic times we are living in and have come up with a solution that fits the needs of business during these difficult days."
The economy continued to worsen, Bloomberg news services reported recently, revealing that the U.S. may be facing the worst recession of the postwar era. It sourced the Reuters/University of Michigan final index of consumer sentiment, which showed plummeting home values, diminishing stock prices and the loss of millions of jobs. And Commerce Department reports agreed, showing the economy has suffered the biggest contraction since 1982.
"In these times, it is critical for businesses to survive," said James Norris, President of Wingmen Media. "Traditional forms of marketing are not as effective in today's economy. Businesses are looking for new ways to generate business. We must think and work smarter. It's important to stay aware of ever changing shifts in marketing, advertising and the forces that impact the entire business."
"Our Wingmen work by your side to build long-lasting, effective marketing strategies that yield tremendous results," Norris said. "We work together to build an integrated strategy that is relevant, adaptable, and will yield a high return on the media dollars spent."
Wingmen Media's core belief and mission follows the Divinity Star business concept of 'Aligning Business for a Brighter Future,' Divinity Star's Rudden said, "Wingmen Media aligns in perfect formation with clients' marketing goals and missions."
Wingmen Media believes that it is its moral duty to emphasize integrity in every aspect of its work, and its mission is to provide advertising that protects and benefits its clients as they do business today. "Businesses know they have a strong advertising partner that enables them to meet an economic climate that will create interesting challenges, but also tremendous new opportunities," Rudden said.
About Divinity Star Enterprises, LLC:
Divinity Star Enterprises offers advanced marketing strategy and campaign development in the areas such as search engine marketing, PPC management, web analytics, sales lead generation services, and social media advertising for businesses and nonprofit marketing. Wingmen Media is an innovative technology partner to Divinity Star, providing businesses with a powerful marketing arsenal. Attracting new customers through efficient and effective internet advertising, Wingmen Media delivers products and services to customers and builds strong company brand loyalty across the internet.
###