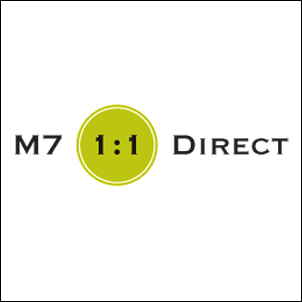 We may do an M7 1:1 Direct campaign monthly and target different verticals each time.
Campbell, CA (PRWEB) April 11, 2007
M7 Inc., an award-winning marketing communications firm, now offers an effective new lead generation program called "M7 1:1 Direct". This ground-breaking direct marketing strategy takes variable data messaging to a whole new level and has produced above average results with response rates over 3% and campaign ROI of 400%.
"M7 1:1 Direct" programs are highly personalized direct marketing campaigns, using technology and techniques many clients have never seen or used before," says Lisa Orrell, President of M7 Inc. "M7 delivers a personalized message to each contact on the lead list motivating them to visit a custom URL containing their own name," explains Orrell. "M7 delivers this message to each contact using a variety of methods including print, e-mail, and web."
Meriann Muraoka, Sr. Marketing Manager at BlueArc Corporation says, "We hit a 1% response rate in 3 days, 2% by the 7th day, and we exceeded 4% by the end in our very first campaign!" Muraoka adds, "We may do an M7 1:1 Direct campaign monthly and target different verticals each time."
"M7 1:1 Direct" campaigns are powered by sophisticated multi-channel communications software that enables M7 to provide clients with real-time, quantifiable data to measure the campaign's effectiveness as the campaign runs. This hyper-customized reporting allows M7 to monitor the effectiveness of the messaging as well as the creative as the campaign is running and make adjustments on the fly if required.
"We don't require our clients to install special software like other agencies do," Orrell says. "M7 offers a turnkey solution so the client doesn't have to host or install anything." Orrell adds, "And, M7 is able to synch its reporting with most common CRMs, like SalesForce.com."
For more information about the M7 1:1 Direct program, or to learn about other M7 Inc. marketing, design and branding services, contact Lisa Orrell: LOrrell @ M7Design.com or call her at 866-906-M7M7, x: 701, or visit their website at http://www.M7Design.com.
###