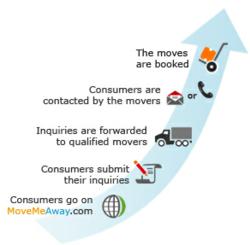 In a recent evaluation we conducted on our services, we found that an average of 75% of the leads generated on our website are being booked by our movers who individually book between 10%-30% of the leads they receive.
Montreal, QC (PRWEB) September 21, 2011
MoveMeAway.com, an online service that connects consumers and moving companies, recently conducted an in-depth study of their current and projected client base to see how effective their company is in generating leads for their clients. Lead generation companies like MoveMeAway.com function as high-tech marketing matchmakers connecting customers with the product or service they are looking for.
Lion Sedov, marketing director of MoveMeAway.com, said, "In a recent evaluation we conducted on our services, we found that an average of 75% of the leads generated on our website are being booked by our movers who individually book between 10%-30% of the leads they receive."
According to MoveMeAway.com, the first step consumers generally take to look for moving companies is to look online. What will often appear at the top of their search results, however, are lead generation companies – not moving companies, making lead generation the number one marketing must-have for moving companies.
Below are highlights from the key findings from MoveMeAway's recent study, which, to summarize, showed conclusively that the future of any moving company today is contingent upon their affiliation with a reliable lead generator.
Why use a Lead Generation service versus other sales generation options?

Over the past ten years, the operational costs of any moving company have doubled—while rising competiveness has forced the amount they charge per move to substantially decline. In order to survive in today's market, movers are forced to close in on this gap by spending less on advertising and booking a higher ratio of moves.
Lead Generation companies are a great alternative to other forms of online advertising because they are result-oriented and cost-effective. Lead Generation is currently the least expensive mean of expanding a moving company's customer base. It is also easier to measure ROI (return on investment) than with more traditional forms of advertising.
The second cheapest method of increasing sales is pay per click (PPC) advertising, which is on average five times more expensive for every lead generated and far less effective. The pay per click option cannot deliver the same results due to the high number of false or redundant clicks that the business pays for.
The Lead Generation process brings the client directly to the business providing the specific product and/or service that they are interested in. This reduces cost and effort for the business and is a time saving solution for the client.
What are the key benefits of using a Lead Generation service?

As only leads pertinent to the business are generated, the business is in a better position to evaluate its cost against its results which are tangible and track-able. This makes it a much more practical marketing option than other forms of online advertising.
A user-friendly customized control panel offered by some Lead Generation companies makes it possible to view and contact all the leads from a single location. This enables organized tracking and better management of your leads.
The leads that are generated for a given moving company are hand-picked to match their area of operation and the specific products and services they provide. It is therefore next to impossible for a moving company to receive a lead that is not suited to their business.
What are the specific components to look for when selecting a Lead Generation company?
In order to effectively convert leads into booked jobs, moving companies should select a Lead Generation company with the following attributes:

A built-in spam checking system to ensure only leads of the highest quality are provided;
A Lead Distribution System that does not distribute leads to more than five companies in the same region, in order to ensure that the chances of converting leads into booked jobs is high;
A Lead Generation process that is intuitive for both the business and the client. Easy set-up and lead management for the business, as well as a simple and clear quote request form for the client, is imperative for success. This provides maximum success in regards to sales for the business and a positive client experience.
Conclusion
In short, Lead Generation companies are a great way to increase the sales of a moving company. They take care of a great deal of the marketing automatically, freeing up the management and its employees to concentrate on the core working of the business. When Lead Generation is used in the correct manner, with the aid of a proficient Lead Generation company, it is a sure way to improve the overall profitability of a moving company.
About MoveMeAway.com:
MoveMeAway.com connects relocation service providers with their potential customers. It generates quality moving leads and distributes them to reputable moving companies in the United States and Canada. They ease the process of moving for consumers by allowing them to find multiple quotes from different reliable movers, at the click of the button. They also ease the process of moving for moving companies, as relevant leads are sent directly to them, with no need to advertise. MoveMeAway.com also offers free, practical information for individuals planning to move, helping consumers every step of the way along their moving process, from planning where to move to what to do once they've arrived to their destination.
For More Information Contact:
(888) 700-9048
info(at)movemeaway(dot)com
http://www.MoveMeAway.com
# # #