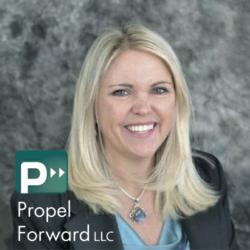 "The goal is not the absence of power, but rather a healthy blend of the different components of power."
Chicago, IL (PRWEB) January 15, 2013
Carlann Fergusson of Propel Forward LLC has coached and developed hundreds of leaders that others have labeled as perfectionists, wishy-washy, egotistical or weak. In all those engagements she has rarely found a leader who hasn't wanted to be a respected leader and lead their team to greatness. Today's bombardment of leadership advice can shake a leader's confidence in reaching that goal. One topic that is often misunderstood is power.
There are a number of articles today that suggest that the desire for power is bad. Yet it is an employee's desire and willingness to lead others that catapults them into leadership. Companies need people who want to assume this type of power. Power itself is not the villain. How a leader uses three key power sources is what will determine how the leader engages his or her team and the perceptions others have of them as a leader.
To determine how a leader can increase their effectiveness they can ask themselves which of the following three components of power is driving their decision or action: 1) Is it to satisfy personal needs such as being in control, gaining attention or winning? 2) Is it to serve the team or help the organization achieve its goals, or 3) Is it to gain approval by others or to be liked?
Most leaders have some portion of each motive that plays into their decisions and actions. Identifying which motive has the greatest influence on the leader's decision and course of action will provide insight into the leader's effectiveness. Different profiles will create different results. For example, a leader whose highest power base is a need to be liked often makes decisions based on individual team member's needs. This results in inconsistencies and sudden shifts in direction. Others often perceive this leader as wishy-washy or weak. In comparison, a leader who is most often motivated by personal needs is often perceived as controlling or egotistical. Even when this leader is trying to coach others they can appear as dictating the solution and send a message that they don't trust the employee.
The leader's personal power pattern usually stems from good intentions. For example, the leader perceived as controlling is often trying to keep an employee from failing or repeating a mistake the leader once made. Once the leader examines the reasons behind their need to save the employee, they can see that it is just another form of wanting to be in control. After acknowledging the personal need that created this desire for control, the leader is able to shift their decision or action on what is best for the organization. Improvement is not the absence of personal power or a need to be liked but rather an increase in power to serve the greater good with a healthy blend of enough personal power to want to lead others and enough of a desire to be liked to keep behavior socially acceptable.
Enabling leaders to assess their power profile and explore other behavior and beliefs that may limit their personal impact is the focus of Propel Forward LLC's new workshop "You're Already a Better Leader Than You Think." This workshop can be found at http://www.propelforward.com.
Propel Forward LLC provides consulting, coaching and workshops to improve a leader's ability to set a vision for their organization and increase their confidence to lead and influence. Carlann has worked with leaders at companies such as Intel, Visteon, Florida Power and the Department of Defense. She can be reached at carlann(at)propelforward(dot)com.