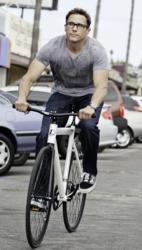 San Diego, CA (PRWEB) July 17, 2012
LEADER BIKE, a dominating manufacture in the fixed gear bicycle industry, formally announces the appointment of Keith Simmons as the company's new President. Former President and Founder Salvador Lombroso has moved into the position of CEO and will focus his resources primarily on Research, Development and Global positioning.
Simmons, the founder and current co-owner of Xterra Wetsuits will now oversee sales, marketing and the operational side of LEADER BIKE. In 2001, Simmons founded Xterra Wetsuits and built the company from start-up phase to the number one triathlon specific wetsuit brand in the world. Simmons has extensive executive leadership experience in the sporting goods industry and has also held the post of President at Newton Running and Ironman Wetsuits. In addition to Simmons business acumen, he is a former USCF Bike Racer, Collegiate level Track and Cross-Country runner and an accomplished Triathlete competing in over (6) Ironman competitions including the Ironman World Championship in Hawaii.
Since Simmons came on board at LEADER BIKE in March sales internationally and domestically have more than doubled and Facebook Followers have gone from 40,000 to over 120,000. LEADER BIKE is quickly positioning itself as the global leader in the Fixed, Fixed Gear Freestyle and the Urban bike category. Leader transcends the cycling industry and into the action sports category with their highly technical range of Fixed Gear Freestyle bikes which are used by several world class athletes including Michael Chacon.
LEADER BIKE has recently introduced a new line of complete bicycles called the URBAN PERFORMANCE SERIES. This new series of complete bikes are based upon their highly sought after fixed gear frames but with the ease of use and function of a multi-speed or single speed bike.
"We are beginning to see a large demand for our fixed gear frames and bikes from mainstream cyclists," says Simmons. "Leader has been a premier manufacture of fixed gear bikes and having this new user friendly version has created a huge demand" "We have already sold out of our first production of the 725 Duomatic and bicycle retailers are currently placing new orders prior to interbike".
Cycling enthusiasts are looking for the ultimate urban chic bike but with the function of a single speed with options for additional gearing. LEADER BIKE's new URBAN PERORMANCE SERIES answers this demand and allows LEADER BIKE to expand sales into the more than 4,000 Independent Bicycle Dealers across the United States while allowing our international partners to expand their business reach accordingly.
The newest model in the URBAN PERFORMANCE SERIES is the 725 Duomatic. This new model looks identical to the ultra-premium 725 Fixed Gear Complete bike but with a special 2-Speed Kick Shift Hub which allows users to change gears and brake by kicking the pedal slightly backwards. The 725 Duomatic looks almost identical to a sleek fixed gear bike as it doesn't need cables to shift or brake. It's quickly becoming the most highly sought after model from new LEADER BIKE dealers.
For more information on LEADER BIKE please email contact@(at)eaderbikeusa(dot)com or call 619-425-6452