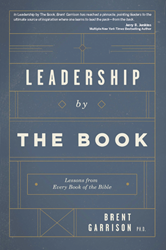 "Dr. Brent Garrison has reached a pinnacle, pointing leaders to the ultimate source of inspiration where one learns to lead the pack—from the back." Jerry B. Jenkins, Multiple New York Times Bestselling Author
Boise, Idaho (PRWEB) February 16, 2016
As a theological and administrative scholar and an organizational leader, Brent Garrison, the Director of CEO Relations at CEO Forum, has been blending spiritual insights with leadership techniques for years. Today, Garrison releases his newest publication, Leadership by The Book: Lessons from Every Book of The Bible.
Garrison wrote "Leadership by The Book" for the Christian men and women across the country who experience leadership in a variety of ways. Some lead a congregation, youth group or ministry; some lead in their homes, businesses, or community organizations. The lives of many followers of Christ are marked by a combination of these roles.
While each leadership role is different and presents its own conflicts and issues, Garrison says that God, who he sometimes calls the CEO of the universe, knows the hearts and intentions of everyone. He wrote "Leadership by The Book" so that each chapter would represent a different book of the Old and New Testaments, provide examples of how God's servants have led His people, and share the lessons that today's leaders can learn from them. Its engaging, introspective style and exceptional insight make "Leadership by The Book" a must-read for anyone looking for some divine advice in fulfilling their leadership roles.
When asked to offer his opinion on Garrison's newest publication, New York Times bestselling author, Jerry Jenkins, said, "Dr. Brent Garrison has reached a pinnacle, pointing leaders to the ultimate source of inspiration where one learns to lead the pack—from the back."
In "Leadership by The Book", Garrison mines leadership advice from the truest source and presents it to readers and leaders in a uniquely applicable way. Insightful applications and spiritual adaptations for modern problems on every page, "Leadership by The Book" will help Christian leaders in their personal, spiritual and professional lives to find timeless answers to difficult questions. For more details and media inquiries, please visit Elevate Publishing.