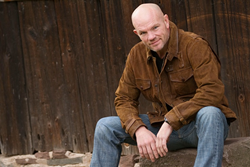 Patrick takes the time, energy and expertise to understand and identify where you really want to go and maps out an executable step-by-step plan to get you there, starting immediately
Cromwell, CT (PRWEB) January 30, 2015
Business coach and leadership mentor Patrick Precourt announced the launch of his new website Six Primal Life Pillars. The site, sixprimalpillars.com, is a personal development resource center that features exclusive coaching and training from Precourt as well as downloadable content and opportunities to interact with the leadership mentor.
"Patrick's most innate skill set is to pull the best out of you, stripping down the shell, drive right to the core and uncover what it is that truly drives you," said the website's spokesperson. "Patrick takes the time, energy and expertise to understand and identify where you really want to go and maps out an executable step-by-step plan to get you there, starting immediately."
The new website offers a six-week intensive course that explores the concept of true wealth and how to live in what Precourt describes as "outrageous abundance." He describes this as living life and pursuing the passions of one's heart, serving others never settling for standing still and living life in accordance to a personal code of honor that guides growth.
"Immediately together, I want to help you figure out what may be hindering you from having exactly what you deserve," said Precourt. "This course is designed so that you have everything that you need for absolute massive wealth, starting right now."
Precourt's motto is "Always appreciate what you have, and always want more." On his new website, the business mentor said he determined that there are six crucial requirements that anyone who wants to achieve true wealth must understand. Through the course available on sixprimalpillars.com, interested individuals can start working toward the goal of true wealth.
According to the website, Precourt is looking for dedicated and motivated participants who ready for growth. The sections of content explore themes such as the key to growth, the power to impact change, the code of honor and building a perfect environment.
Precourt is offering a money-back guarantee on his course. If participants are not satisfied after week one of the course, they can receive a refund.
About Patrick Precourt
Patrick Precourt is a personal development and small business performance coach, speaker, author, athlete, MMA enthusiast, husband and dad. For more information, please visit https://sixprimalpillars.com/