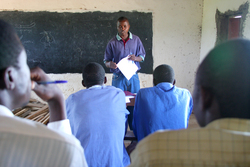 "Nuru has realized that by empowering local leaders to use design-based methods of thinking they are equipping entire communities to adapt to the challenges of developing lasting solutions to extreme poverty."– Chelsea Barabas Leadership Program Manager.
San Clemente, CA (PRWEB) March 31, 2011
Nuru International is a US-based social venture that cultivates local leaders in remote, rural areas to lift themselves out of extreme poverty without handouts or subsidies. With the addition of the capacity building Leadership Program, Nuru further emphasizes a critical aspect of sustainability and scalability in international development: local ownership. The Leadership Program equips leaders with the skills and knowledge necessary to prototype, iterate, and scale Nuru International's poverty-fighting interventions without the financial or operational support of Western assistance.
"Nonprofits have an obligation to seek new and even more effective ways of making tangible progress towards their missions, and this requires building organizational capacity. All too many nonprofits, however, focus on creating new programs and keeping administrative costs low instead of building the organizational capacity necessary to achieve their aspirations effectively and efficiently…This must change."
Effective Capacity Building in Nonprofit Organizations, Report for Venture Philanthropy Partners by McKinsey & Company
Non-profit organizations (NPOs) play an increasingly important role in our society and the extreme poor are often dependent upon their effectiveness and efficiency. International development organizations agree that capacity building, sustainability, and scalability are essential components for success, yet complex issues abound in authentically implementing these ideals. Nuru International wrestles with these challenges and has chosen a novel approach: equip the extreme poor to develop their own solutions to solve poverty eradication.
Nuru goes beyond training in any one given solution to end poverty. Instead, Nuru equips local people with the skills and perspective needed to analyze and adapt to the challenges of implementing impactful poverty solutions in the ever-evolving environment of extreme poverty. Nuru does this by investing in relationships with local leaders, providing them with the capacity building resources and training they need to strengthen their skills in areas such as strategic planning, organizational management and project development.
"The Leadership Program comprises a series of trainings that are designed to build on the knowledge and skills of local staff as they rise up in the organization," says Chelsea Barabas, Leadership Program Manager. "Nuru has realized that by empowering local leaders to use design-based methods of thinking they are equipping entire communities to adapt to the challenges of developing lasting solutions to extreme poverty."
The Leadership Program is the result of two-and-a-half years of research and experience working with the extreme poor. Built upon the foundation of Stanford University's d.school, Center for Social Innovation, and Extreme Affordability class taught by professor Jim Patell, the goal of the program is to cultivate peers to take ownership of the project.
"We help unlock the latent potential of service-minded local leaders and place these integrated proven solutions in their hands to empower communities to lift themselves out of extreme poverty permanently," says Jake Harriman Nuru, International CEO
Nuru doesn't enter a community with ready-made solutions. Instead it focuses on collaborating with local leaders, business people, farmers, and school children to design their own solutions to the problems of extreme poverty. The poor themselves are the key to unlocking their own potential. The Leadership Program simply shows them how.
About Jake Harriman
Jake Harriman is the founder and CEO of Nuru International, a social venture dedicated to fighting the greatest humanitarian crisis of our generation: extreme poverty. Jake earned his MBA at the Stanford Graduate School of Business in June 2008. It was during his time at Stanford that Jake gathered the skills to build a model that is proving we can eradicate extreme poverty by empowering entire communities.
Jake served seven and a half years as an infantry and special operations platoon commander. During that time, he led Marines in chaotic, ever-changing environments on four operational deployments throughout Southeast Asia, Africa, and Southwest Asia/Middle East, including two combat tours in Iraq. He was awarded the Bronze Star for actions in combat during his second tour in Iraq. His personal experiences fighting the war on terror around the world convinced him of the link between extreme poverty and terrorism. Jake left his career in the Marine Corps and enrolled at Stanford to build an organization that would address the growing threat of terrorism by ending extreme poverty.
About Nuru International
Nuru International is a U.S.-based social venture that equips the poor living in remote, rural areas to end extreme poverty in their communities. Nuru is fighting to see an end to extreme poverty in our lifetimes, and recently launched the Leadership Program to help with this goal. Thankfully we are not in this fight alone. Thousands of humanitarian organizations, multi-lateral institutions, Fortune 500 companies and impassioned individuals are working alongside us to end extreme poverty. But it's not happening fast enough. We can end extreme poverty one community at a time through capacity building initiatives which emphasize local ownership. Nuru is starting first in Kuria, Kenya. Nuru International is a 501(c)(3) non-profit, public benefit charity.
Nuru is a host organization for Entrepreneurial Design and Extreme Affordability, a graduate-level project course hosted by the Stanford Institute of Design. Nuru works with students to identify a specific need in the community and consider their design for implementation.
For more information please contact:
Laura Changala PR Director
laura(dot)changala(at)nuruinternational(dot)org
http://www.nuruinternational.org
###