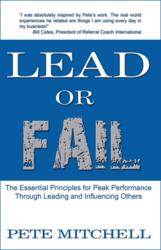 I made it very clear when I interviewed all the military guys, including the Navy SEALs, that I would not include any sensitive or classified material.
Long Beach, CA (PRWEB) October 10, 2012
Pete Mitchell, author of "Lead or Fail: The Essential Principles For Peak Performance Through Leading and Influencing Others" (Anderson-Noble) has been confronting claims that his book contains the recounting of military missions and tactics without being reviewed by government officials before being released. Mitchell denies that there is any threat to National Security, but admits that the Department of Defense might see things differently.
Navy SEAL Mark Owen (pseudonym) author of "No Easy Day: The Firsthand Account of the Mission that Killed Osama Bin Laden" (Dutton) did not seek prepublication review by the Pentagon prior to his book's release. A Pentagon Spokesperson claims that when Owen didn't seek prepublication review, "this was the height of irresponsibility." While Mitchell admits that his book, Lead or Fail, does contains the recounting of military missions and tactics, because he never signed a confidentiality agreement like Owen did, he had no responsibility to send the book to the Pentagon for review.
"When I interviewed the Navy SEALs I made a promise to them that I would not reveal any classified material. I believe I have honored that promise," stated Mitchell. "Since the mission that took out bin Laden the terms SEAL Team Six and DEVGRU have become common knowledge. However, when I was asked to leave those names out of my book, that's exactly what I did."
Lead or Fail, while it includes military missions and tactics, is not a military book. "It's a book about the principles leaders need to embrace in order to accomplish tasks that require a team in step with the leader" continued Mitchell. "The reason so many military missions are retold is because the military has found ways to turn teenagers into fighting men that others follow. So much can be applied to the civilian world."
Regarding No Easy Day — which Owen wrote anonymously before his identity was revealed in national news media — Mitchell noted, "I read it. It's fantastic. I can't imagine how anyone can insist there are any secrets in that book." No Easy Day topped best seller lists everywhere when it was released.
Get Lead or Fail where books are sold, or get it free on Kindle, right now, by clicking here: http://www.amazon.com/Lead-Fail-Performance-Influencing-ebook/dp/B003EIIX4U/.