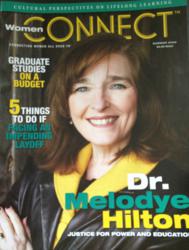 What you value underlies all of your decisions and actions.
Mechanicsburg, PA (PRWEB) April 30, 2013
Dr. Melodye Hilton travels nationally and internationally as a leadership consultant and behavioral analyst impacting both the profit and not-for-profit sectors of business, government, and the educational system. From June 24th-29th, 2013, she will host a five-day leadership intensive giving leaders and teams the opportunity to learn from and adapt a positive and transformational style of influence. The intensive will be held at the International Training Center, 147 Wolf Road Elizabethville, PA 17023.
Featuring interactive workshops, registrants will discover personal values through assessment tools and the Values Profiling System along with the development of personal purpose. Dr. Hilton says, "What you value underlies all of your decisions and actions. It may or may not be a conscious choice, but it determines your future and how your life will impact society."
Joined by United States Army Colonel, Linda Herbert, and business and ministry adviser, Dr. Vard Gainor, the event will focus largely on the reformation of leadership. Aspects of the objective hierarchy of values, emotional intelligence, justice, and building trust will be incorporated as well as Dr. Hilton's own concept of VQ—validation quotient.
Designed to cultivate organizational and cultural impact, the event will integrate elements of NeuroLeadership with the development of "Higher Living Leaders"—all from both a scientific and Biblically based vantage point.
Dr. Hilton, who is known for her charisma and energy, has captivated audiences nationally and internationally. Commended by the principal of the LAYC Youth Build Public Charter School (Washington D.C.), she is known for her personal approach to creating a positive and sustainable impact for audience members.
"Dr. Hilton presents in a manner that engages and inspires her audience. She is very professional, well prepared, and willing to accommodate the needs of the program," the principal said.
In association with the International Training Center—an accredited school for emerging leaders—these five days of training will stir vision, purpose, and passion for both established and emerging leaders.
Registration cost is $175.00 per person. Special group rates for five or more people are also available. Groups must register together to receive the discounted rate.
For more information or to register for the intensive: http://www.goitc.org/leadershipintensive
To learn more about Dr. Melodye Hilton and her leadership style: http://www.drmelodye.com