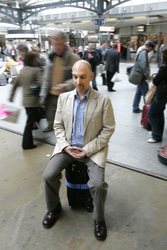 It's hard to overestimate how helpful this technique could be.
San Francisco, CA (PRWEB) September 1, 2009
Martin Boroson, a Yale MBA and author of One-Moment Meditation: Stillness for People on the Go, will deliver a learn-at-lunch training on meditation and leadership at the University Club in San Francisco on September 9, 2009 at 12 noon. Leadership and Meditation Booking
In this lecture/workshop, which is sponsored by the Yale Club of San Francisco and open to the public, leaders will learn Boroson's radical technique of 'one-moment meditation,' and how the meditative mind is useful not just for stress reduction but also for decision-making, change management, innovation, and peak performance.
Boroson's extraordinary approach to meditation begins with an exercise that takes just one minute a day. With practice, this takes less and less time, until you can do it in just a moment. Said Psychologies magazine, "It's hard to overestimate how helpful this technique could be."
With one-moment meditation, you can meditate wherever you are and whenever you have a moment: when you're stuck in traffic, waiting for a download, about to make a presentation, even during a meeting. Instead of checking your Blackberry just one more time, you can grab a moment of meditation. You can use it as a tool to focus the mind, interrupt stress, and see any situation more clearly.
Boroson, with an MBA from Yale, and a background in psychotherapy and Zen meditation, is emerging as one of the most inventive of a new wave of meditation teachers. His book, One-Moment Meditation: Stillness for People on the Go, has been published in eight languages, from Portuguese to Japanese, and is now available in the U.S. His teaching--both playful and practical--has been featured in The Times of London, the Guardian newspaper, and The Irish Independent, and heard on numerous BBC radio programs.
He has taught meditation in train stations, a farmyard, a cabaret, and on the radio - even stopping traffic in Ireland for a 'national moment of stillness' -- thirty seconds of total silence broadcast live over national radio.
But he says that the most important place to meditate is at work--because this is where we spend so much of our time, where we experience so much stress, and where so many important decisions get made. "The workplace is the last place we can imagine meditating, so it's the best place to meditate."
Boroson also uses the meditative mind as a starting point for organizational consulting, helping whole organizations move through sometimes turbulent processes of change. In other words, organizations, just like people, can learn to be more self-aware, more adaptable, and more awake to the present moment and its potential.
He will present a day-long training called 'Leadership in the Moment: Liberating Momentum in Yourself and Others' at St. Mary's College Leadership Center in Moraga, CA, on September 12th. This day is for leaders to learn how to remove obstacles to change in themselves and their teams, and use a meditative mind to create a truly conscious and vibrant organization. Leadership Training - More info and booking.
Martin Boroson has been developing his unique application of meditation to leadership training for over twenty years. After graduating from the Yale School of Management in 1988, he says, he felt a strong need to balance the analytic techniques of management with other ways of knowing. So instead of heading to Wall Street, Boroson began to study depth psychology, Zen meditation, and the arts. Eventually he decided to distil some of these more 'far out' practices into simple, useful, and modern tools that would work at work.
Boroson says, "Right now, we need leaders who can help us to remain calm in a time of anxiety, and help us wait for a truly novel solution to emerge, rather than apply quick fixes that are based in fear. This is where meditation comes in. It helps you remain calm and stay grounded in what really matters, while becoming open to new ideas and also more responsive to what's happening around you."
Boroson has even helped some leaders see the credit crisis as an opportunity, an opportunity to rethink what it means to be a leader and how we run our organizations. Some of the leaders he has trained choose to introduce one-moment meditation to their teams and add it to their coaching programs.
Although we see evidence of corporate greed all around us these days, Boroson says, "I have met so many leaders who are sincerely searching for ways to support the well-being of their employees and community, and believe this to be integral to the well-being and peak performance of their organization."
For more information about Martin Boroson's work, visit http://www.martinboroson.info.
"Boroson takes the mystery out of meditation." -- The Irish Independent
To learn more about one-moment meditation, visit One-Moment Meditation Online.
'Leadership and Meditation,' Lunchtime workshop at the University Club, 800 Powell Street, San Francisco, CA, September 9, 12 noon. Open to the Public. Tickets are $5.00 and can be booked at the Yale club of San Francisco Leadership and Meditation - Booking
'Leadership in the Moment: Liberating Momentum in Yourself and Others,' September 12, St. Mary's College Leadership Center, Moraga, CA, 9 AM - 5 PM. Places are $105 (including lunch). More information at Leadership and Momentum Training - Info and Booking
Martin Boroson is available for interview. He is in the San Francisco Bay area from September 2 - September 15.
About Martin Boroson:
Martin Boroson is the author One-Moment Meditation, published in eight languages and now available in the US. He delivers keynotes, public lectures, workplace training, and leadership development in one-moment meditation, and consults to organizations that want a deeper approach to decision-making and change. He is the host of the VoiceAmerica radio program, Leadership in the Moment, debuting on September 22, 2009.
###