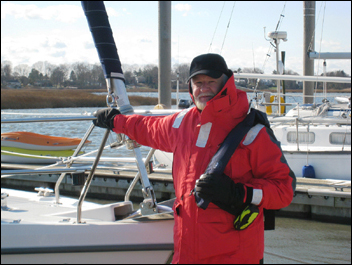 Graphic stories give leaders vivid snapshots to draw on when they are facing daunting challenges
Branford, CT (PRWEB) December 20, 2006
True stories of exemplary leadership and teamwork in situations of extreme adversity are grabbing the attention of business executives. Dr. Dennis Perkins uses these stories to illustrate key messages to his clients, typically executives of leading international companies. Rather than using abstract leadership and teamwork theories, business audiences are responding to lessons learned from true stories of hardship and challenge according to Perkins.
"Graphic stories give leaders vivid snapshots to draw on when they are facing daunting challenges," says Perkins, CEO of CT-based consulting firm, The Syncretics Group, and former Yale School of Management professor. "Extreme conditions demand exceptional teamwork, and they provide great examples to learn from."
Leadership expert, Perkins and his colleagues at The Syncretics Group use the story of the AFR Midnight Rambler in their business consultation. The AFR Midnight Rambler, a 35-foot sailboat, navigated through hurricane conditions to win Australia's Sydney to Hobart boat race in 1998. The crew sailed through 60-foot waves and near 100 mph winds to take home the Tattersall's Trophy, beating Larry Ellison's 78-foot maxi yacht, Sayonara.
To experience and deepen his insight of the challenges that the crew endured while racing, Perkins will sail the Sydney to Hobart Race which begins on December 26, 2006. He hopes to confirm the many parallels he draws between effective teamwork in ocean racing and business success. In addition to constant, complex changes and stressful situations, Perkins believes that racing, like business, can test the tenacity and effectiveness of a leader and a team.
Perkins co-authored a popular leadership book, Leading at the Edge, using the example of Ernest Shackleton's 1914 expedition to Antarctica. Stranded on the ice for 23 dismal months, Shackelton's extraordinary leadership made the entire crew's survival possible.
For more information on Perkins race experience and The Syncretics Group's leadership and teamwork consulting services, visit http://www.syncreticsgroup.com or call 203.481.6118.
About The Syncretics Group
The Syncretics Group helps leaders, teams, and organizations achieve their greatest potential in demanding environments characterized by adversity, uncertainty, and rapid change: The Edge
Over the past two decades, we have studied leaders and teams facing conditions of extreme challenge - the limits of human endurance. Through our study of the Survival Edge, we have drawn lessons that will enable organizations to reach their greatest potential: the Performance Edge.
This concept of The Edge is embedded in our consulting, coaching, and educational offerings, all of which have one thing in common: they are grounded in the experiences of leaders and teams that have overcome the most daunting obstacles imaginable.
We believe that our unique approach, and our experience with organizations facing significant challenges, gives us a truly unique capability.
For more information on our speakers and organization, please go to our website at http://www.syncreticsgroup.com or contact us at 203.481.6118.
###