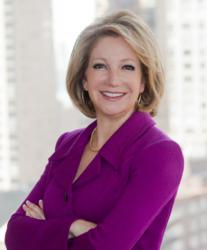 Tardanico will talk about the power of authenticity, clarity and accountability as drivers of positive change.
New York, New York (PRWEB) September 06, 2011
Leadership expert Susan Tardanico will be a featured speaker at the Womensphere Global Summit on September 22-23, 2011 in New York City. The annual conference, which convenes approximately 500 senior executives from around the world, will focus on leadership, economic growth, innovation, entrepreneurship, sustainability and social impact.
Tardanico, who is CEO of the Authentic Leadership Alliance, Executive-In-Residence at the Center for Creative Leadership and former corporate senior executive and broadcast reporter, set context for the conference theme, "Creating the Future" by talking about the connection between personal leadership and organizational, community and societal leadership. She will elaborate on the power of authenticity, strategic clarity and accountability as drivers of positive change.
"We are honored to have Susan speak at this year's Global Summit," said Womensphere CEO Analisa Balares. "She has distinguished herself in many ways and offers refreshing perspectives on leadership that are sure to inspire participants to create a better future for themselves, their organizations and the global community at large."
In addition to her roles at the Authentic Leadership Alliance and the Center for Creative Leadership, Tardanico is a leadership and motivational speaker, addressing corporate, civic and professional groups around the country. She also lectures on leadership strategies at Georgetown and NYU graduate schools and writes about leadership for Forbes and ForbesWoman. She is a 23-year veteran of corporate America, most recently serving as Vice President and Corporate Officer of Textron, then a $14 billion multinational company. Tardanico is also a former Boston-based television news reporter and anchor.
As a Global Summit speaker, Tardanico joins other luminaries such as Perry Yeatman, President of Kraft Foods Foundation; Susan Whiting, Vice Chair of Nielsen; Maria Ramos, the former Director-General of South Africa's National Treasury; and C-level executives from NASA, Google, American Express, Verizon, Omnicom, NASDAQ and others. To learn more about the summit, click http://www.womensphereglobalsummit.com.
About Womensphere
Womensphere is a global leadership community comprised of more than 11,000 CEOs, senior executives and rising leaders in business, finance, entrepreneurship, social entrepreneurship, public policy, media, science and technology. http://www.womensphere.org
About the Authentic Leadership Alliance
The Authentic Leadership Alliance LLC (ALA) is a leadership and communications consultancy that helps people maximize their potential as leaders of themselves and others. ALA advises and coaches CEOs and executives at major corporations, in the political arena and at nonprofit organizations. It also focuses on entrepreneurs, women and emerging leaders. http://www.authenticleadershipalliance.com
About the Center for Creative Leadership
The Center for Creative Leadership (CCL®) is a top-ranked global provider of executive education that accelerates strategy and business results by unlocking the leadership potential of individuals and organizations. Founded in 1970 as a nonprofit educational institution focused exclusively on leadership education and research, CCL helps clients worldwide cultivate creative leadership - the capacity to achieve more than imagined by thinking and acting beyond boundaries. Ranked among the world's Top 5 providers of executive education by Bloomberg, BusinessWeek and the Financial Times, CCL is headquartered in Greensboro, N.C., with campuses in Colorado Springs, Colo.; San Diego, Calif.; Brussels; Moscow; Singapore; Pune, India and Addis Ababa, Ethiopia. Its work is supported by 500 faculty members and staff. http://www.ccl.org
###