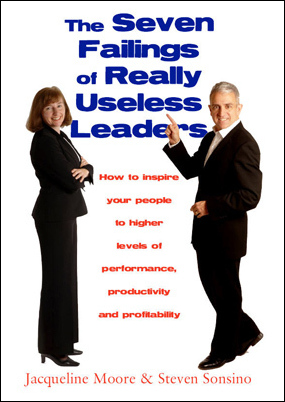 London, UK (PRWEB) May 7, 2007
Trying to copy inspirational leaders such as Jack Welch or Mother Theresa or Gandhi is a waste of time. Today's managers would be better off correcting their own flaws rather than copying other people, says Steven Sonsino, a business school professor, and Jacqueline Moore, a business writer.
In a cheeky twist on Stephen Covey's 'Seven Habits of Highly Effective People', Moore and Sonsino have catalogued 'The Seven Failings of Really Useless Leaders' in a new book published on 15th May 2007 and available from The Seven Failings of Really Useless Leaders website.
'We believe that it's easier and quicker to STOP doing the seven things that are demotivating your people than it is suddenly to pretend to be Jack Welch, Mother Theresa and Martin Luther King rolled into one,' says Sonsino, a Fellow in the Centre for Management Development at London Business School.
'What started out as a light-hearted pun on the Stephen Covey title 'The Seven Habits of Highly Effective People' has become a serious call for action, because the impact of change is dramatic. You CAN inspire people to higher levels of performance, productivity and profitability -- as long as you just stop doing some or all of seven things.'
Unlike other leadership books, 'The Seven Failings of Really Useless Leaders' does not concentrate on good or great leadership, says Moore, formerly a columnist on the London 'Financial Times'. 'We don't recommend people copy all those so-called inspirational executives out there. We know that copying other people blindly just doesn't work.'
Also, says Sonsino, 'We learn far more -- and far more quickly -- from our mistakes than from the things we do well. That's just human nature.'
Explaining why they wrote the book, Moore says 'Leadership training is increasingly being dominated by models of successful leaders, by stories of high-achievers and by shining examples of great leadership.' The couple, a husband and wife who've worked together for 15 years, have written countless papers and have taught workshops round those themes many times.
'But we began to wonder how realistic it was to expect all the managers on our coaching programmes and attending our leadership workshops to be able to emulate the great leaders,' says Sonsino. 'If we were genuinely interested in helping people to become authentic leaders, true to themselves and their beliefs, how could we ask them to copy other people, no matter how inspirational those role models were?'
Secondly, the authors began to wonder if some of the case studies and examples of leaders being used in business schools were simply too extreme, too 'inspirational', or simply too naive, for managers to consider seriously. 'This is especially true today when the mantra of the moment is an unthinking obsession with short term results.'
At the core of Moore and Sonsino's book are the seven key areas where managers still foul up in leading others. 'These are things that researchers have known for decades destroy bottom-line value,' says Sonsino. 'What's astonishing is that they're still with us.'
Moore and Sonsino identify seven recurring failings. Really Useless Leaders, they say:
1) Kill explanation
2) Kill emotion
3) Kill engagement
4) Kill enthusiasm
5) Kill reward
6) Kill culture
7) Kill trust
'We noticed that Stephen Covey launched a new book recently "The Eighth Habit",' says Sonsino. 'So we've just launched an Eighth Failing: not doing anything about the other seven.'
Availability:
'The Seven Failings of Really Useless Leaders' (MSL Publishing) is available exclusively through The Seven Failings of Really Useless Leaders website from Tuesday May 15th 2007. And to kickstart the launch, Moore and Sonsino are making more than (GBP) £3,000-worth of leadership training material available for free to buyers who claim their book on Tuesday May 15th 2007.
The authors:
Jacqueline Moore and Steven Sonsino are a husband and wife team based in the UK.
Jacqueline Moore is a business author and writer. Her last book, 'Leadership Unplugged', also written with Steven Sonsino, was described as 'learned yet practical' by Harvard Business School Press. Until she turned to writing full-time in 2003, Moore was a senior journalist and columnist on the London 'Financial Times' where she worked for 16 years.
Steven Sonsino is an author, motivational leadership speaker and business school professor with clients including Microsoft, Sony Ericsson, Sara Lee, General Mills, E.On, the Institute of Chartered Accountants and the Chartered Institute of Personnel and Development. He is a Fellow of the Centre for Management Development at London Business School where his recent clients include HSBC and ExxonMobil. He is also visiting professor at ESMT in Germany, at EGP In Portugal and at the Indian School of Business in Hyderabad.
###