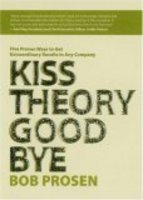 The Voice of Career Leadership.
Dallas, TX (PRWEB) August 21, 2007
According to Bob Prosen, "the mission of The Prosen Center is to help business leaders rapidly increase performance, productivity and profits." Not one to embellish ideas or thoughts, Prosen is the author of the best-selling, multi award winning business book, Kiss Theory Good Bye, published in 2006.
Prosen recently recorded an interview with Peter Clayton, host of the popular online career radio show, Total Picture Radio. The former Fortune 100 executive discussed with Clayton "proven tools and techniques" he has developed for becoming a high-performance leader. With more than 25 years of global business experience, the Dallas, Texas-based leadership expert likes to cut through "theory, speculation and hype" and "deliver bottom-line results." In fact, in doing research for the interview, Clayton found the primary reaction to Bob Prosen's workshops and his book was: "I can put what I've learned to use immediately." Clayton discovered this very consistent reaction to Kiss Theory Good Bye, from reader's reviews of his book on Amazon.com, and the testimonials on the author's web site from participants in his workshops.
Prosen calls his results-driven process "The Five Attributes of Highly Profitable Companies." These attributes frame his workshops, serve as the section titles of his book and guide the discussion of the Total Picture Radio interview.
A good deal of Bob Prosen's time is spent on the road, leading workshops for clients such as AT&T, Merrill Lynch, ARAMARK, NCR, Hitachi, Verizon, Nortel Networks, and public school districts.. Asked by Clayton what the "first question executives attending his workshops ask," Prosen immediately replied, "The number one problem today is finding and retaining top talent. That seems to be the biggest challenge out there, followed closely by the need to increase accountability and alignment."
"This is a wonderful time to be in the job market ..." - Bob Prosen.
Following up on the talent retention issue, Prosen added, "The new generation coming into the workforce really care a whole lot about work-life balance, they love technology and want to be challenged in that area… they want to be engaged, they want to be communicated with, they want to know what's going on, and they want to have fun and be involved." Prosen believes that to be able to attract top talent, organizations will have to adapt their culture and their business processes to embrace the expectations and demands of Gen Y's high performers.
In a Total Picture Radio interview highlight, Bob zeros-in on strategies for using Kiss Theory Good Bye as a road map for career transition, for producing results, and getting ahead.
So what are the Five Attributes of Highly Profitable Companies that Bob Prosen teaches? Superior Leadership, Sales Effectiveness, Operational Excellence Financial Management and Customer Loyalty. After he recited the list of attributes, Clayton responded, "easer said than done, right?"
"At The Beginning Of The Day, It's All About Possibilities. At The End Of The Day, It's All About Results." -Bob Prosen
About Bob Prosen
Prosen is President and CEO of The Prosen Center for Business Advancement (http://www.bobprosen.com) and has been successfully teaching top business leaders from around the United States how to execute by applying his Five Attributes of Highly Profitable Companies. Prosen's customized programs help leaders identify their key objectives, increase accountability and alignment throughout the organization, simplify processes, consistently deliver required results and continue to develop other top-performing leaders for their organizations. Prosen's no nonsense approach gives leaders what they want most -- proven tools and tactics to immediately improve performance and profits.
A native New Yorker, Prosen earned a BS in engineering from Texas Tech University and an MBA at Georgia State University. He's done post-graduate work at the Wharton School of the University of Pennsylvania, at the Massachusetts Institute of Technology, and at Duke University. He has received numerous awards for professional excellence and serves on the University of North Texas School of Marketing Advisory Board and is listed in The International Who's Who of Entrepreneurs. In addition to his management training programs, he speaks nationally and internationally to a wide range of organizations and companies.
About Total Picture Radio:
Total Picture Radio is a career empowerment service for knowledge workers. We are committed to sharing ideas and commentary from thought leaders in business, strategy, marketing, career management, media and the Internet. TPR podcasts actionable information for high-performance careerists -- and business leaders creating talent-focused organizations. Our in-depth interviews include best-selling authors, senior executives, visionaries, leadership coaches and entrepreneurs. Total Picture Radio is "The Voice of Career Leadership." Sponsorship opportunities are available.
###