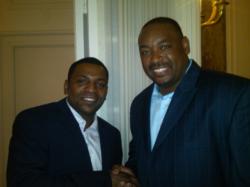 Washington, D.C. (PRWEB) May 03, 2011
A-list actors, actresses and concerned business leaders came together in Washington, D.C., on Friday, April 29, 2011 to launch the "Be A STAR" anti-bullying initiative to shine a light on the increasing epidemic of bullying. Joining this effort was Idaho-based national community development organization, L.E.A.D.E.R.S.H.I.P. 1ST. The "Be A STAR" event was hosted by The Creative Coalition and World Wrestling Entertainment (WWE). L.E.A.D.E.R.S.H.I.P. 1ST was announced as a member of the Be A STAR: Show Tolerance and Respect Advisory Council. In this role, the organization will work with others to deliver solutions to end bullying.
L.E.A.D.E.R.S.H.I.P. 1ST creates curriculum, trainings and workshops addressing at-risk youth behaviors with mentorship strategies to equip business and civic leaders, coaches, educators, law enforcement, parents and others who regularly interact with young people.
"We are honored to be nationally recognized and seen as a community leader to address such a serious issue," says Detroit native Derrick Boles, President & CEO of L.E.A.D.E.R.S.H.I.P. 1ST. "Bullying is a learned behavior and doesn't go away just because you get older. This problem continues to impact our communities and social behaviors."
During the event, actors and actresses supporting the initiative delivered quotes on their meaning of 'courage' when standing against bullying. Presenters included brother and sister actors Patricia Arquette and David Arquette, Jason Biggs, Tim Daly, Omar Epps, America Ferrera, Alyssa Milano, Mekhi Phifer, Marlon Wayans and others. Watch actors' 'courage' video.
The Be A STAR: Show Tolerance and Respect Advisory Council launched in response to President and First Lady Obama's call to action to prevent children from being bullied and becoming bullies themselves. The advisory council is made possible under the auspices of the World Wrestling Entertainment. The Creative Coalition is a nonprofit, nonpartisan social and public advocacy organization based in New York.
Founded in 2006 by Derrick Boles, L.E.A.D.E.R.S.H.I.P. 1ST is a national community development organization that focuses on educational initiatives. Based in Nampa, Idaho, the company is committed to engaging current and future leaders in a variety of settings by providing curriculum, leadership training and workshops. For more information, please visit http://www.leadership1st.info/ .
###