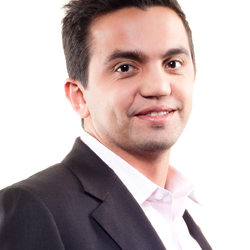 "I am not about a sales pitch," says Hassan, "I am about outcomes."
Dallas, Texas (PRWEB) August 29, 2012
Hassan Bawab, Founder and CEO of Magic Logix, leading global digital marketing agency, is frequently honored in the media for his outstanding leadership qualities.
Bawab built his company from scratch. He led the growth of Magic Logix into a Fortune 500 and large client serving entity with a process based operations approach, people committed to excellence, and partnerships that enable Magic Logix to provide consistent world class quality. He will be the first to say that leadership is about doing and showing as much as possible.
Three key leadership tips from Hassan Bawab are as follows:
"I am not about a sales pitch," says Hassan, "I am about outcomes."
Hassan believes the CEO should be the best listener in the company, and strives to be that.
Bawab relies on carefully selected experts and recognizes that leaders utilize specialists to help them deliver their best quality. It is a common, innocent, yet perilous mistake that entrepreneurs who never take their companies to the world class level make, to rely too much on themselves to know and lead everything.
These and many more reasons form the basis for why Hassan Bawab, 32, has built a leading gobal digital marketing solutions agency, and is honored regularly in the media for his contributions not just to Web design, development and online marketing, but to the community at-large's understanding of what it means to be a responsible, effective leader.
To arrange to have Hassan speak on leadership, Web design, development or digital marketing, please contact the media representative. To read about his latest honor in the media, visit the Magic Logix blog.
About Magic Logix
Headquartered in Dallas, Texas, Magic Logix is a leading global digital marketing agency that drives client business growth by merging creativity, technology and online marketing. Through proprietary client intake, workflow and project management processes, Magic Logix consistently yields top quality results, client satisfaction and long-term relationships. Through continual discovery of new industry best practices and partnerships with industry leaders, Magic Logix delivers world class business expansion solutions to mid-sized to Fortune 500 companies and government agencies. Magic Logix continually ranks internationally in the top ten Web Design, SEO and Web Development firms by Top SEOs, Best Web Design Agencies, Interactive Media, Communicator Awards, Tech 200, is GSA certified and a fast growth company in Inc. 500. Our in-house staff works closely with clients to provide completely customized solutions using the latest technologies, best practices and originally developed approaches to produce top-quality ecommerce solutions, marketing automation tools, custom content management system (CMS) and customer relations management (CRM) integration, and dynamic Web presentations. For more information, please visit http://www.magiclogix.com. Stay connected with Magic Logix on LinkedIn, Facebook and Twitter.