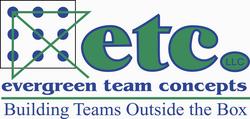 We are streamlining the way business is done
(PRWEB) October 17, 2007
Evergreen Team Concepts announces the rollout of Lean Leadership Institute, a certifying body and National Association. The Lean Leadership Institute will provide members with ongoing Leadership Training in Lean 5S, discounted coaching opportunities, discounted Lean resource material and free online training modules. Services are located online at etcwa.com.
"We are streamlining the way business is done," says Mike Ridpath, Senior Manager, Products & Services for Evergreen Team Concepts.
Evergreen Team Concepts designed the Lean Leadership Institute to be the certifying body of the Lean Leadership courses offered by Evergreen Team Concepts, as well as their partners, National Seminars Group. The Lean Leadership Institute will be providing Lean 5S Certification, Process Improvement Coaching, Module Based Lean and Kaizen Training, and free resources for members to continue to learn more about increased profits through decreased wastes and costs.
In addition, the Lean Leadership Institute will facilitate web forums, which will allow members of the LLI to ask questions, answer questions, and share successes and challenges to foster a greater learning environment. The Lean Leadership Institute will sponsor special events for its members to participate in free Leadership Training and coaching with industry leaders. In addition, the LLI will be giving scholarships away for Lean 5S and Six Sigma certifications.
About Evergreen Team Concepts:
Evergreen Team Concepts is an innovative industry leader in information resources providing leadership training, coaching, consulting and seminars to meet the demand of companies throughout the world. We are dedicated to inspiring individual growth and enabling companies to achieve not only financial growth, through elimination of waste and stronger leadership, but also developing teams outside of the box - empowering creativity to the organization. Through its strategic alliance with industry leader National Seminars, Evergreen Team Concepts helps clients easily and successfully complete all business-training needs. More information can be found online at http://www.etcwa.com.
Media Contact:
Henry Beeland
Evergreen Team Concepts
(866) 559-9222
###