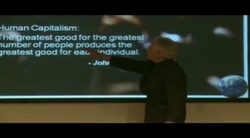 Self-interest is not a sufficient motive to generate market-changing innovation. The pursuit of sustainable abundance for all is the only relevant goal of business.
Chicago, IL (PRWEB) September 24, 2009
"Most of today's leadership training is harmful to creating a sustainable future," claimed award-winning leadership development expert, Will Marre, in his recent appearance on First Business, a syndicated television show seen across the country in over 200 markets.
Marre's provocative stance on leadership development is that business schools are no longer relevant. According to Marre, they are only effective in training people in the mindset that has created our current problems. That mindset doesn't conform to our new reality.
In his interview with Jim Hansen, Marre proposed, however, that we are in the midst of a business revolution bigger than the industrial revolution where more money will be lost and made in the next 25 years than has been in the past 100.
At the forefront of this revolution, according to Marre, is the fundamental values shift being brought on by a global re-thinking of our future. Marre's own research with the American Dream Project reveals that employees today are more independent, entrepreneurial and more motivated by meaning than the past generations. Furthermore, the Hidden Brain Drain Task Force reveals that 86 percent of today's workforce want to do work that benefits humanity and heals the environment. They want to create a sustainable future.
According to Marre, this leadership development revolution is also magnified by the collapse of business-as-usual as the old leadership development models cease to work. Marre cited examples of failures in the auto, media, publishing, banking, music and retailing industries. Marre stated, "Our old business organizations are failing because they produce less and less value, which results in less growth and profitability. They become obsessed with benchmarking, bureaucracy, and budgeting, which kills innovation, cripples agility, and suffocates growth."
Marre proposed that in some ways the whole 20th century economy is in a long death swoon while a 21st century form of enterprise he calls hybrid enterprise is thriving. The new hybrid enterprise is driven by relevance, innovation, and commitment to large-scale growth. He cited Google and Amazon as early obvious examples.
Marre's real interest for leadership development is in the growth of cause-driven hybrid enterprise. The Grameen Bank and the Grameen Foundation, for instance, have created a smashingly-successful micro-credit industry with over 133 million interest paying, value-producing entrepreneurs. This is nothing less than the re-invention of banking to end poverty. The Grameen Foundation is also partnering with a for-profit Indian company to create energy independence one village at a time by financing low cost solar panels that charge batteries that provide LED lighting without the grid. They are targeting 250,000 new energy entrepreneurs to bring clean renewable energy to their remote villages.
According to Marre, this kind of revolutionary thinking needs a new kind of leadership development and is the focus of his book, Save the World and Still Be Home For Dinner (Capital Books), in which Marre presents a new leadership model for 21st century leaders. Marre concluded in the interview, "Self-interest is not a sufficient motive to generate market-changing innovation. The pursuit of sustainable abundance for all is the only relevant goal of business."
About Will Marré:
Will is an Emmy Award-winning writer, speaker and coach. He is the co-founder and former president of the Covey Leadership Center (The 7 Habits of Highly Effective People) and CEO of the REALeadership Alliance where he helps leaders identify, communicate and implement new socially strategic business models. Will has been a personal leadership coach and advisor to multi-billion dollar global companies such as Disney and Johnson & Johnson. For the past 10 years he has focused on making corporate social responsibility strategic. His new book, Save the World and Still Be Home For Dinner, is being released Sept. 30, 2009.
For more information on opportunities to have Will speak, please visit WillMarre.com, or for more information on Will's consulting practice, please visit Realeadership.com. You can also follow Will on Twitter (@WillMarre) and Facebook.
###