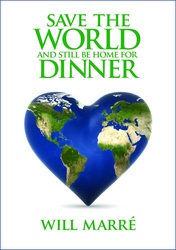 People, especially Gen Ys and Boomers, are looking for what we call a
San Diego, CA (PRWEB) August 6, 2009
The American Dream has been hijacked, according to Will Marré, leadership speaker and expert, founder of The American Dream Project, and author of the new book, Save the World and Still Be Home For Dinner (Capital Books, Sept. 2009). In his trek across the country giving speeches and hosting town hall meetings to college and alumni clubs, business leaders and community groups and his research with the American Dream Project, interviewing and surveying over 20,000 Americans ages ranging from 8 to 80, Marré has rediscovered the American Dream--To Save the World and Still be Home for Dinner.
While in recent years the American Dream has been equated with fame and fortune (see Rethinking the American Dream), Marré asserts in his speeches that more and more of us are tired and disillusioned by the pursuit of stuff and long to pursue meaningful work, lifestyles and relationships that have a positive impact on the world. He states, "Vast numbers of us are exhausted and drained by the way we work and how we live. There is a shared persistent concern for our future. We are awakening to the reality that the world needs saving and that it's up to us to do something. Today there is a voracious appetite for meaningful work."
Marré's observation is ringing true across generations. A recent survey reported in the Harvard Business Review, reveals that both the Baby Boomer generation (age 50 +) and Generation Y (age 22-32) are seeking far more than a paycheck. It states of findings from the Hidden Brain Drain Task Force, "People, especially Gen Ys and Boomers, are looking for what we call a "remixed" set of rewards: Flexible work arrangements and the opportunity to give back to society trump the sheer size of the pay package."
Furthermore, the article reports that 86 percent of Gen Y respondents and 85 percent of Boomers say it's important that their work make a positive impact on the world, 89 percent of Gen Y and 87 percent of Boomers say flexibility is important in their work because they are eager to pursue other passions, and 89 percent of Gen Y and 87 percent of Boomers long for social connections at work.
Marré contends that this research clearly shows that we all want the same thing--the genuine American Dream of "Life, Liberty and the Pursuit of Happiness" for all. Marré states, "The bottom line; what nearly all of us really want for our lives is to matter." He continues, "At the same time we want to enjoy life, especially our relationships. We also want to pursue our personal interests and reignite the pilot light of our inner zest. As one hard working mother put it, 'I just want to save the world and still be home for dinner.'"
In Save the World and Still Be Home for Dinner Marré tells the stories of how dozens of ordinary people are living the real American Dream and as the result, the most extraordinary lives. He reveals the uncommon habits of how these people think, decide and act to teach how we can transform any circumstance into a fulfilling, exciting and contented life. Marré states, "Of course, no one of us will save the world. But as one inspired teacher put it, 'When we change our world, the world changes.'"
Marré's take on the American Dream is inspiring. He passionately states in his Emmy award winning PBS special, "Reclaiming Your American Dream", "The American Dream will only be reclaimed one dream at a time. Only when enough of us stand up for our real dreams of a sustainable future will the entire energy of our culture rise up to transform the world. Only our noble vision will save our future. All we have to do is start right where we are. Today."
About Will Marré:
Will is an Emmy Award-winning writer, speaker and coach. He is the co-founder and former president of the Covey Leadership Center (The 7 Habits of Highly Effective People) and CEO of the REALeadership Alliance where he helps leaders identify, communicate and implement new socially strategic business models. Will has been a personal leadership coach and advisor to multi-billion dollar global companies such as Disney and Johnson & Johnson. For the past 10 years he has focused on making corporate social responsibility strategic. His book, Save the World and Still Be Home for Dinner will be released in fall 2009.
For more information on opportunities to have Will speak, please visit WillMarre.com, or for more information on Will's consulting practice, please visit Realeadership.com. You can also follow Will on Twitter (@WillMarre) and Facebook.
# # #