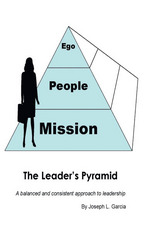 Bowie, MD (Vocus) November 7, 2010
While a small percentage of "good leaders" are born with the innate talent to lead, most develop the skill through experience. The Leader's Pyramid: A Balanced and Consistent Approach to Leadership (published by AuthorHouse) by former United States Air Force officer Joseph Garcia shares almost three decades of leadership experience, and how he developed the leadership system that garnered him success and praise.
While teaching a series of leadership courses at the U.S. Air Force Academy in Colorado Springs, Garcia challenged one of his classes to come with ways to make the academy a better place to live and learn. From this project, the Leader's Pyramid was born. The Leader's Pyramid orders three crucial aspects required of leadership: mission, people and ego.
At the base of the pyramid lies the mission, the next inclination is people, followed by the top of the pyramid – ego. With this simple yet poignant hierarchy, Garcia teaches how leadership can be learned and put into immediate practice.
In The Leader's Pyramid, Garcia uses stories and examples from his own career, and those of other leaders, to show how the Leader's Pyramid can be a powerful guide to successful leadership. Garcia's own successes as the only chief financial officer of the Federal Emergency Management Agency's (FEMA) Gulf Coast Recovery efforts in the aftermath of Katrina and his time in Saudi Arabia demonstrate how The Leader's Pyramid can be applied in real world, challenging settings to great accomplishment.
About the Author
Joseph Garcia was the first and only chief financial officer (CFO) for FEMA's Gulf Coast Recovery operations in the New Orleans, La. oversight office. He performed in this senior executive service position for three years. Garcia served as a CFO for a national nonprofit in Washington, D.C. and sits on the board of directors for another nonprofit that supports job training and placement for spouses of military members. He spent 28 years in the U.S. Air Force where he served as a squadron commander, spent a tour at the Pentagon, was deployed for six months in the Middle East and served in numerous overseas assignments, including South Korea and Germany. He retired at the rank of lieutenant colonel. Garcia holds a master's degree in leadership from Georgetown University. His awards include the Federal Woman's Program Male Boss of the Year, Department of Defense Comptroller of the Year and a Superior Mission Achievement award from the Department of Homeland Security. He and his wife, Brenda, reside near Washington, D.C.
AuthorHouse is a premier book publisher for emerging, self-published authors. For more information, please visit http://www.authorhouse.com.
# # #