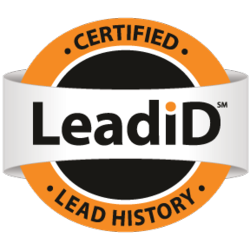 Philadelphia, PA (PRWEB) July 18, 2012
LeadiD (leadid.com), a technology startup company based in Philadelphia with satellite offices in San Francisco and the DC Metro area, is expanding. The company has also hired four new executives to propel its movement forward by bringing standardization, translucency and trust to online lead generation.
The company has added John Trionfo to its team as Senior Vice President. Trionfo was formerly Vice President of Market Development at TARGUSinfo. At TARGUSinfo, Trionfo created the Risk and Payments business and built the Communication Service Providers unit into a high growth business. During his seven years at the company his team was responsible for driving the vision of many of the company's products from concept through to market delivery. "The opportunity I see at LeadiD is to provide a platform for an industry that wants to mature but needs the ability to establish trust between the good players while protecting each company's intellectual property at the same time. LeadiD has built the technology and the neutral positioning to deliver this to the industry. The results so far are fantastic."
LeadiD has named Rob Rokoff as Vice President of Business Development. He will drive strategy and channel partnerships for the LeadiD Platform. Rokoff previously served in strategic positions leading growth initiatives with both TARGUSinfo and Leads360, Inc. "Leads360 and TARGUSinfo are both very successful value-add 3rd party partners affecting positive change and thought leadership in our space. With the LeadiD Platform, I see a unique opportunity to lead our industry through a period of change, and to do so by delivering an independent, neutral, universal standard ensuring trust, integrity and quality." Rokoff will spearhead west coast operations out of the San Francisco office.
Natalie Stopko, previously Sr. Director of Web/Interactive Media at LendingTree, LLC., is the LeadiD Director of Marketing. Stopko brings more than fifteen years of experience building successful marketing campaigns and highly effective online experiences for large corporations, nonprofit organizations, government agencies and higher education. Stopko left her position in higher education, where she oversaw online marketing, and enterprise mobile and web strategy. She truly believes "LeadiD will change the industry. In fact we already are. We have certified over 100 lead sellers to date and the list keeps growing!" Stopko works out of the Philadelphia office.
Lauren Jacobson, another new addition to the LeadiD team, has been named Director of Client Services. Jacobson, previously Director of Client Strategy at Ampush Media, Inc., will come on board in early August and work out of the Philadelphia office. She was drawn to LeadiD because of her frustration with how 'bad actors' dilute everyone's value. Jacobson states, "Now that Ampush has implemented LeadiD, they can actually prove that they are a 'white knight' player. I knew that all along, but with LeadiD, now the entire market knows it. LeadiD is a great tool for lead generators to set themselves apart in an industry that's not quick to trust."
In the coming weeks, LeadiD will add executives from additional firms within the Lead Generation space. LeadiD will be presenting with Kaplan University, Total Attorneys, All Web Leads and YBrant (formerly Experian Interactive) at LeadsCon East in NYC on Tuesday, July 24th. If you are interested in attending LeadsCon East visit leadscon.com.
About LeadiD
Founded in January 2011 by Ross Shanken, LeadiD is the the only independent, neutral, open technology platform, which tracks the origin and history of every lead event that utilizes the LeadiD system. No supplier-proprietary data is exposed, but rather, LeadiD allows Lead Sellers and Lead Buyers to make real-time decisions based upon definitive origin and history flags that are predetermined. LeadiD fosters an environment of trust in the transaction, one where both Lead Sellers and Lead Buyers alike derive top-line value. With unmatched data, LeadiD is the industry standard for authenticating lead origin and history and the authentication platform of choice for firms of all sizes.
For more information, visit leadid.com.
Follow LeadiD on Twitter: twitter.com/LeadiD
Media Contact:
Natalie Stopko
Director of Marketing
215-690-1624
nstopko(at)LeadiD(dot)com