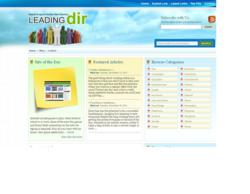 If you should be looking for a web directory with no third party advertisements, then Leading Directory will be one to match your expectations.
(PRWEB) December 02, 2011
Online Web Directory listing is a great way of getting much needed exposure online. Leading Directory listing service offers lot of scope for online promotion and visibility in short time with guaranteed approval of listing in 48 hours time," said founder of the Leading Directory. The directory has just announced free inclusion service for non-commercial websites. This will be a great news for many non-commercial web site owners from all over the World who are consistently looking for ways of promoting their online resources.
The founder of the online business stated, "As we come to the end of 2011 we want to thank all our patrons who are webmasters who put all trust on us in making them more visible. We promise to bring more features to our 'online promotion' directory listing services. We'd go past the regular web directory frame in the coming year by probably adding more features. Getting the product/business name in front of people is an important thing in business promotions. With that in mind we strong require customers to 'submit URL' to the most appropriate category."
The founder remarked, "It is every webmaster's right to expect online visibility with directory submission and review services, but absence of quality web directories in the first place deprives majority of webmasters with the benefits of directory listing service." Leading Directory is a human-edited directory and doesn't plain link/s as review service instead quality website profiles are offered as listing with as many as five deep links to even the inner pages.
"Our team of prudently selected editors contributes to manually editing the website reviews submitted for directory inclusion while adhering to the time frames. We also have online blog on the site http://www.leadingdir.com/blog/ and our writers contribute to it with informative blog posts covering different areas including online marketing, business, technology and Internet which could give value addition to the site visitors. With the blog link we strive to give a natural appeal to site visitors who sincerely seek informative content on the website.
Leading Directory has hosted more than 13000 links from a wide category range. If you should be looking for a web directory with no third party advertisements, then Leading Directory will be one to match your expectations. Our home page comes with added features including 'Site of the Day,' and 'Featured Articles' along with links to latest links and Top Hits. Each link submitted will have information about the site including its category and deep links if provided. Whether it is a regular directory listing (3 deep links) or a featured (5 deep links) listing for link building, we promise no more than 72 hours to have it approved and present it live," shared the founder before signing off.
About Leading Directory:
Leading Directory is an SEO-friendly general web directory that is online since 2005. With six years into business, the directory has over 30 categories and 2000 sub categories which is sets it apart from other directories. Leading Directory also shows no third party advertising on the site and has almost all top authority sites listed. The directory strives to provide quality review services and intends to become the most sought after directory listing service in the years to come.
Leading Directory
Sea Breeze
S. Feydhoo
Maldives
Tel: +960 7785396
Email: balabodu(at)live(dot)com
###