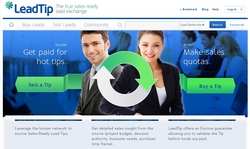 LeadTip brings a secure marketplace to a broken system. Great sales people can sell anything, now they can sell the sales leads they find everyday in addition to the products they have - said Stephen Pieraldi, CEO of 2bclear.com.
Cupertino, CA (PRWEB) April 18, 2011
LeadTip.com has launched a unique sales-ready Tip Marketplace. Feed a sales person a fish and he will live for a day, tell a sales person where fish are and he will feed an entire organization for life. LeadTip.com changes everything. Instead of relying on tremendously inefficient cold-calling and fishing-in-the-dark prospecting tactics, Sales persons are alerted to qualified sales-ready opportunities.
Geoff Rego, LeadTip Cofounder and CEO said, "Organizations waste billions of dollars on spray-n-pray lead generation campaigns with very low lead yield. Low lead yield forces sales people to waste time self prospecting instead of closing sales. LeadTip was founded to change cold calling into crowd sourced prospecting. With LeadTip's's new exchange, your sales leads look for you instead of you trying to find a needle in a hay stack".
LeadTip is built on the idea that Sales people will sell Tips on sales-ready opportunities for products they don't sell themselves but find every day. LeadTip's patent pending platform brings the Tip-Sellers and Tip-Buyers together in a safe and secure environment. At the same time, it retains and maintains the identity of the Tip-Seller and Tip-Buyer from each other so that the Tip-Seller and Tip-Buyer can complete their transaction using their online Avatars and a private Q&A channel to facilitate communications between Tip-Sellers and Tip-Buyers. In addition LeadTip escrow and reputation services guarantees only true sales-ready opportunities are transacted between Tip-Buyers and Tip-Sellers.
About LeadTip
Sales People who come across qualified and funded sales opportunities, for products they don't sell, help their customers and get paid by selling these sales-ready leads at LeadTip.com .
LeadTip, Inc is a privately held company headquartered in Cupertino, Califonia. For more information visit http://www.leadtip.com. ©2010-2011 LeadTip Inc and the LeadTip Logo are trademarks or registered trademarks of LeadTip, Inc. in the United States and/or other countries. Information is subject to change without notice. All rights reserved.
###