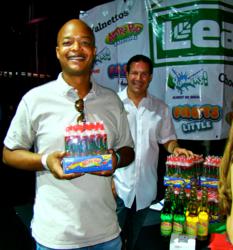 "I thought it was so amazing seeing many big celebrities walking up to our table and turning into a little kid as they were so excited to see Astro Pops® back," said Leaf Brands CEO Ellia Kassoff."
Hollywood, CA (PRWEB) August 07, 2012
Iconic, retro candy rocket-shaped candy sucker Astro Pops® which re-launched this June is quickly becoming a staple candy among consumers once again, including many movie and TV stars. Leaf Brands passed out the famous sucker, along with their other great candies at this year's 'Teen Choice Award' Gift room suite last Saturday. Astro Pops® were already known as the longest lasting lollipop on earth when the previous manufacturer, Spangler Candy, discontinued the product line in 2004.
"They're finally here!" said an exuberant Todd Bridges of 'Different Stroke' fame as he spots boxes of Astro Pops® stacked up high at the Leaf Brands®, 'Teen Choice Awards' table. Todd had been waiting a year to finally satisfy his Astro Pop® habit, along with many Hollywood stars including; Scott Baio, Kevin Sorbo, Lorenzo Lamas, Dave Foley and Mark Curry to name a few. There has been an 8-year hiatus since consumers have been able to purchase Astro Pops® in the marketplace, and legions of fans were patiently anticipating its debut back on the market. Stars are no different in their love of the famous candy sucker. "I thought it was so amazing seeing many big celebrities walking up to our table and turning into a little kid as they were so excited to see Astro Pops® back," said Leaf Brands CEO Ellia Kassoff. "There is such a connection between Astro Pops® and great memories of childhood no matter who you are." "Leaf Brands is honored to own such an iconic brand", Kassoff continues.
Connected Gift Suites, hosted the 2012 'Teen Choice Awards' event on Saturday, July 21st at the world famous Avalon in Hollywood, where many of today's young teen stars came to check-out the many fabulous product offered to them. Stars from 'House of Lies', 'Paranormal', 'Twilight' and networks such as MTV and Disney were well represented. Guests were treated to many of Leaf Brand's® hot products, which included, Farts Candy®, Astro Pops® and Astro Pop® sodas.
"Within a short period, our candy became the hit of the whole event!" commented Mr. Kassoff. At one point, so many people were excited about our candy, we could barely interact with everyone!" he continued. Young Hollywood celebrities have quickly taken to Leaf Brands many products. Whether it's Farts Candy®, considered by consumers to become a "Nerd® Killer", or the famous Astro Pop®, which is now introduced to a whole new generation of consumers, stars like Nolan Gould, Aubrey Anderson-Emmons and Rico Rodriguez of Modern Family flock to Leaf's booth at each event. Leaf plans on continuing to build ties with Hollywood and its celebrities. "Currently, Astro Pops® have been requested for use on two major motion pictures in the last month, and we believe there are more placement opportunities to come since many of today's actors, directors and producers grew-up with Astro Pops and want to use them in their movies" said Mr. Kassoff.
Astro Pops® only started shipping in June after very high anticipation by the candy industry and consumers, with Leaf Brands® shipping over 600,000 units in less than six weeks after the launch, quickly making it one of the top candies in the hard candy category. According to Leaf, consumers had been waiting for almost three years for the famous pop to come back and now they are driving the demand.
About Leaf Brands®, LLC: The original LEAF Brands® were started in the 1920's. LEAF Brands, once the fourth largest candy producer in North America, produced candy classics such as Whoppers®, Jolly Rancher® and Rain Blo Bubblegum®, which were later sold to Hershey Chocolate & Confectionery Corporation in the late 1990's. Family members have acquired the LEAF brand name for the US, and assembled together to revive the Leaf name and its famous image. Products include Astro Pops®, Yummers!®, Farts Candy® and David's Signature Beyond Gourmet® products.
For additional information, contact:
Ellia Kassoff
http://www.leafbrands.com
kassoff(at)leafbrands(dot)com
(949) 424-1664