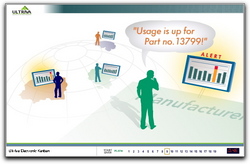 We often work with companies using an MRP system that had given up on manual Kanban methods. They want to know if electronic Kanban is right for them. The Lean Assessment Tool can answer that question because it's like having a Lean expert on your desktop
Cupertino, Calif. (Vocus) July 29, 2008
Ultriva Inc., the company that designs software and solutions to enable 'Lean Business' through customer-centered manufacturing, has launched a free tool that lets manufacturers quickly quantify the potential savings that could be gained through inventory reduction. The Lean Assessment Tool is now available online at ultriva.com and assists materials management, supply chain replenishment, purchasing and operations professionals in their quest to streamline their manufacturing value chain.
The Lean Assessment Tool lets users upload hundreds of parts histories and then graphically visualize their current replenishment patterns along with future potential opportunities. Ultriva's patent-pending consumption-driven replenishment algorithms allow users to perform 'what if' simulations in real time.
"Even though the 'lean philosophy' can permeate the corporation in terms of process changes and improvements, one area where it has immediate impact is inventory management," said Narayan Laksham, CEO of Ultriva. "Having the right amount and correct mix of inventory is the key to achieving near-perfect, on-time delivery. The Lean Assessment Tool provides a fast assessment of where a company can optimize its parts inventory and puts a company on the road to just-in-time replenishment. Companies that used the tool during the recent three-month beta period have, in aggregate, identified potential cost savings of more than $10 million."
Accessing the Lean Assessment Tool is easy. After a two-step registration process, users log in and upload their own inventory data (ideally six to twelve months of historical information), guided by a helpful wizard. The Lean Assessment Tool then performs a comprehensive inventory sizing analysis and instantly identifies specific parts that can be optimized through inventory reduction. Users can then:

Look at potential savings by parts and by suppliers.
View the top 100 parts that offer the highest savings.
Conduct 'What If' analyses by interactively varying lot sizes, lead times and safety stocks.
Create reports and charts that can be exported and saved locally.
Share the analysis with team members and management.
"Several of our current customers have been able to quickly identify parts that should go into a pilot study, additional suppliers they should bring online, or additional plants that should go live," added Laksham. "On average, companies that use the Lean Assessment Tool identify cost savings of 30 to 50 percent, which implies a very good ROI for implementing a consumption-driven replenishment methodology."
The Lean Assessment Tool is useful for any manufacturer, no matter where it is on the path toward a lean manufacturing program. "We often work with companies using an MRP system that had given up on manual Kanban methods. They want to know if electronic Kanban is right for them. The Lean Assessment Tool can answer that question because it's like having a Lean expert on your desktop," added Laksham.
Links:
Ultriva website: and Narayan Laksham's blog.
Ultriva Lean Assessment Tool: link.
Ultriva Lean Supply 2-minute video demo.
Ultriva Lean Scheduling 2-minute video demo.
Lean manufacturing white paper.
About Ultriva:
Ultriva Inc. designs lean manufacturing software and solutions that drive lean processes across the supply chain, from suppliers to customers. Ultriva's flagship product, Ultriva Electronic Kanban, eliminates stock-outs while reducing inventory levels up to 75 percent. Ultriva Lean Scheduling complements demand-driven replenishment strategies by optimizing production schedules in real time around the most variable customer demand. Ultriva Supplier Replenishment extends the replenishment capabilities of Kanban to include schedule-based replenishment, discrete POs, min/max, consignment and VMI (vendor-managed inventory) replenishment methods. Ultriva's products are in use in more than 100 plants worldwide, incorporating more than 4,000 suppliers, transacting over one billion dollars of inventory and reducing manufacturing costs for industry leaders such as AGCO, Emerson, Ingersoll-Rand, McKesson, Rexnord, and Timken.
Contact:
Tim Cox | ZingPR
(650) 369-7784
###