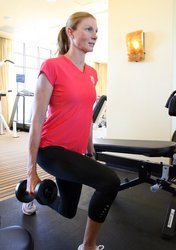 Scenery, hills, trails, great weather, top-of-the-line fitness facilities, training partners, resort-style amenities and more. They are all in the palm of my hand.
Tucson, AZ (Vocus) August 13, 2009
Serious athletes need serious training facilities. With its unique terrain, unmatched climate, and indoor and outdoor training facilities, Tucson is an athlete's paradise. Many top athletes train or have trained in Tucson - among them, Leanda Cave, world-class triathlete. Leanda lives and trains in Tucson's Starr Pass community and combines the best of both worlds - training and recreation.
Triathlon is one of the most demanding disciplines in sports. It is a primarily outdoors multi-sport endurance event consisting of swimming, cycling, and running in immediate succession over various distances. This is why Tucson is so ideal for competitive training, as it is home to huge cycling, swimming and running communities.
For Leanda and Partner/Coach Torsten Abel, Starr Pass Tucson was love at first sight. After attending a training camp in Tucson several years ago, she was blown away. The ease of training in Tucson was unreal.
"The community around JW Marriott Starr Pass Resort & Spa offered absolutely everything I could possibly want," said Leanda. "Scenery, hills, trails, great weather, top-of-the-line fitness facilities, training partners, resort-style amenities and more. They are all in the palm of my hand."
JW Marriott Starr Pass Resort & Spa's Hashani Spa has become Leanda's second home. As a member of the Hashani Spa, she has found it an ideal match for her stringent athletic training requirements. "Having access to a top-notch fitness center, pool, trails, and recovery services like massage, steam rooms, sauna and whirlpool means my entire training regimen can all be accomplished within Starr Pass and Hashani Spa," noted Leanda.
The fitness center at Hashani Spa has all the equipment needed for a complete workout. Leanda's typical gym workout includes time on the treadmill, stretching, core strength exercises and weight training.
Although in stellar shape, Leanda still succumbs to muscle fatigue due to her rigorous training schedule. As a treatment for this, she has taken advantage of Hashani Spa's massage services and notes it has had "an extreme therapeutic impact" on her body. "Hashani Spa and its staff have helped make me a better athlete."
According to Torsten, triathlon ranks very high among the healthiest and most balanced sports. Triathletes must train their entire bodies. The stringent training required allows Leanda to enjoy a great balance in life, and especially allows her to savor great food.
"As athletes, Torsten and I value high quality food. The same can be said of Starr Pass Resort. Their commitment to sustainable and organic food is fantastic. It is impossible not to eat well there," said Leanda. One of her favorite spots is the resort's Primo restaurant, as the food is always at its peak of freshness.
Leanda is next heading to Hawaii in October to the Kona Ironman (Ironman Hawaii World Championship) one of the biggest triathlons of the year.
On May 17, 2009, Leanda took 1st in the Ironman 70.3 Florida, beating the previous record time by over four minutes. She took first place three times in 2008, and four in 2007. She also holds two world championship titles for 2002 and 2007.
For more information, please visit http://www.jwmarriottstarrpass.com or learn more about Leanda Cave at http://www.leandacave.com
About JW Marriott Starr Pass Resort & Spa
Having been named to Travel + Leisure World's Best Hotels Top 500 List two years running (2008, 2009), Starr Pass draws on the beauty of its mountainous location. The resort incorporates the natural desert as its landscape design theme. With 575 spacious guestrooms, 88,000 sq. ft. of meeting space, five restaurants, a 20,000 sq. ft. spa, four separate pools, a lazy river and water slide, an Arnold Palmer Signature golf facility consisting of 27 holes and practice facilities and 888 underground and covered parking spaces, the resort boasts of being not only the largest resort in southern Arizona but also the only true eco-resort in Tucson. This eco theme extends to its Primo restaurant that serves only organic and jet fresh fish, its Hashani Spa, which uses natural desert plant oils and its direct access to the Tucson Mountain Park for fabulous hiking and mountain biking trails. To quote Bill Marriott, "you can build all types of amenities but it would be impossible to duplicate what Starr Pass has, the Tucson Mountain Park." The JW Marriott Starr Pass Resort & Spa is located at 3800 W. Starr Pass and can be reached directly by calling (520) 792-3500. Please visit http://www.jwmarriottstarrpass.com.
CONTACT: Susanna Minegishi
McFadden/Gavender
O: 520-882-6262 M: 520-444-9223
Karen Gavender
McFadden/Gavender
O: 520-882-6262 M: 520-603-4200
###