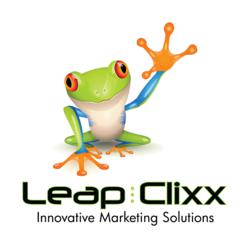 Our new loft-style offices send the right message, and allow us to provide our clients with an enhanced level of personal service.
St. Louis, MO (PRWEB) April 09, 2013
St. Louis SEO and Internet marketing firm Leap Clixx announced today that, due to surging growth for its cost-effective, customized and results-based service offerings, it has expanded and relocated to a new, larger loft-style office in St. Louis' historic and trendy Soulard neighbourhood.
In addition to housing the leading St. Louis search engine marketing firm's growing roster of experts, Leap Clixx will also use its new, larger space to meet personally with clients and provide them with the kind of hands-on service that the firm's founding partners Chans B. Weber and Michael Kiel say is essential in today's competitive environment – yet increasingly rare.
"A surprisingly large number of St. Louis Internet marketing firms are little more than virtual operations that can only meet with clients over the phone or via the web," commented Weber and Kiel. "And while we certainly leverage various technologies and platforms to stay connected with our clients and keep them informed, we also know that many of them want to meet us in person, ask questions, and see that we're not just going be around next month – but next year, and decades from now, too. Our new office sends the right message, and allows us to provide our clients with an enhanced level of personal service that not only makes a big difference in bottom-line results -- it makes all the difference!"
Leap Clixx's new office is located at 1535 S 8th St, Suite A in St. Louis, MO. Business owners and marketing professionals who want to implement cost-effective and customized marketing strategies that generate online visibility, enhance advertising ROI and increase sales can learn more at leapclixx.com or by calling (314) 641-1000.
For media inquiries, please contact Chans Weber at chans.weber@leapclixx.com.
About Leap Clixx
Leap Clixx is a leading St. Louis SEO services firm that develops customized Internet marketing and SEO solutions for small and medium-sized businesses, with services that include pay-per-click management and social media marketing. The firm's founding partners, Chans B. Weber and Michael Kiel, believe that exceptional client service and measurable bottom-line results go hand-in-hand. Learn more at leapclixx.com.