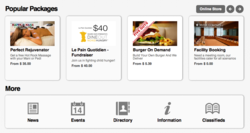 San Francisco, CA (PRWEB) February 01, 2012
Majitek Leap Community helps to manage a building as a community where tenants and service providers interact. It adds to Majitek's Storefront and Help Desk system Leap Plaza, with a module to connect users with information about events, the property and surrounding area, and the services available to them in the building.
An online community enhances the level of amenities enjoyed by tenants, creates new opportunities to promote the brand of the building or property manager, and by driving more traffic to the Leap Plaza store, will lead to increased revenues. An online portal becomes a lifestyle destination, an enhancement of any property with a virtual place for tenants to mingle.
Majitek Leap Community makes it simple to connect social networking tools like Facebook and Twitter to any building Help Desk, whether that be a phone or spreadsheet system, facilities management software, or a specialized tenant work order management system such as Majitek Leap Plaza. Residents can receive Tweets and News Feed updates from the system, for example when the status of a maintenance request has been updated, or when a delivery has been scheduled.
Any page can be shared by users on Twitter or liked on Facebook, including any service in the Store Catalog. This will advertise the property and the amenities it offer to all tenants' Twitter followers and Facebook friends, leveraging the power of social networking for free marketing for the building portal.
About Majitek:
Majitek has deployed its software in upwards of 50,000 residential units and more than 100 high-rise towers. The company's solutions also deliver significant benefits in commercial real estate, healthcare in the Middle East and Asia. Majitek users have reported a very high uptake of value-added services from their tenants, and are enjoying the benefits of new revenue –generation as well as the ease of customer self-service billing.
Majitek was founded by Steve Outtrim and Rob Cumming, and other members of the original team from Sausage Software. The company received an investment from Cisco Systems and CNA Group in 2009. In 2011, Majitek deployed the first Leap Plaza Community in Dubai. Majitek's solutions are now available for a no-obligation free trial in the US and elsewhere, from http://www.majitek.com
About BizCloudNetwork:
Bizcloud Network is a technology media company with a strong focus on delivering top industry news and producing reviews of Web, Mobile, Digital and Cloud Computing products and services. The site offers insights into rapidly-developing world of Social Media and its connection to modern business. Bizcloud Network sees the tremendous value of implementing innovative technologies to enhance business processes and its team of expert writers accordingly creates the content that speaks to its target audience of business and IT professionals and decision makers.
Bizcloud Network has a strong fan base and a growing number of followers on major Social Media Sites, including Twitter, Facebook, LinkedIn, and Google+. It was founded in 2007 as a Media Branch of BizCloud, a leading cloud computing and SaaS service provider. The company is based in San Francisco, California, and has offices in Europe and Asia.
###