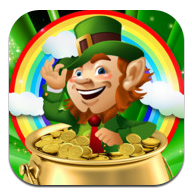 The @AppzThatRock Twitter review team recently named the full iPhone/iPad version of the game an App That Rocks.
Duluth, GA (PRWEB) May 04, 2012
Mobile Magnus, the maker of the highly addictive Leapin' Leprechaun app, has just received word that iTunes has approved the iPhone version of the game for sale in its App Store. This latest offering features the same smart-talking Paddy the Leprechaun fans have grown to love and the scenic Ireland game play that has made the Lite HD version such a hit. The only difference is this newest version is a full edition that is universally compatible with not only the iPhone but also the iPad.
Apple gamers are a discerning bunch, willing to drop down their hard-earned cash for only those games that truly wow them. Indeed, according to the Gamasutra website, which specializes in the art and business of making games, only two of the top 10 game titles in the Apple App Store for the week of May 2, 2012 were paid versions, those being longstanding favorites Angry Birds Space and Draw Something. Gamers are even more wary about shelling out money for the newer, unestablished apps.
Yet for all their stinginess and hesitancy, these same game players have been so delighted with their experience with the free Leapin' Leprechaun Lite HD that they quickly began clamoring for a full paid version. The game's developer was happy to oblige them and Leapin' Leprechaun v. 1.0 for the iPad was born. But despite that rush to meet demand, iPhone gamers were still left with the free Lite and Pro versions as their only options.
All of that changed earlier this week when iTunes gave its stamp of approval to the Apple smartphone version of Leapin' Leprechaun 1.0, which is universally compatible with the iPhone as well as the iPad. Just one day into its May 3, 2012 App Store launch, the full variation of the game had already garnered five reviews, earning a perfect overall score of five stars. One customer described it as "very simple but addictive" and recommended, "If you're bored of playing Angry Birds, but loved [that game], go for this game. It's totally worth a try. Am I saying this is the next BIG game... maybe, very possibly!
Expert opinion is also feeding the Leapin' Leprechaun frenzy. The @AppzThatRock Twitter review team recently named the full iPhone/iPad version of the game an App That Rocks.
To learn more about the full iPhone version of Leapin' Leprechaun, visit the iTunes App Store at http://itunes.apple.com/us/app/leapin-leprechaun/id521644028?mt=8.