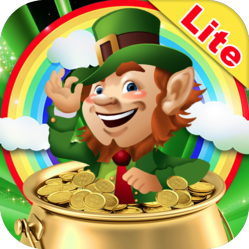 ...we are continuously listening to their feedback and reviews, and we're releasing new versions all the time.
Duluth, GA (PRWEB) March 21, 2012
Having recently cracked iTunes' Top 50 apps list for its categories, Leapin' Leprechaun Lite has no intentions of ceasing its leaping. The developers of the iPad game featuring smart-talking Paddy the Leprechaun plan to do everything in their power to maintain their popularity momentum. And to keep players coming back for more, they are starting with a series of continuous updates and adding an iPhone version too.
In an effort to keep the Leapin' Leprechaun lite download frenzy going, the makers of the game, Mobile Magnus, turned to the same source that helped them catapult to their success—the online app experts—for advice. And one of the sources the company consulted was Ezone.com Apps.
With three pages of apps in the iTunes store, this site's pros know what they're talking about. So when they offered "4 Tips to Get in the App Store Top 200," William McCarthy, Leapin' Leprechaun Lite's lead designer, listened. And the recommendation that resonated most with him was "Keep Updating."
"We don't want to be just another passing craze," explains McCarthy. "We are planning to be around for a long while. To let gamers know we're serious about this, we are continuously listening to their feedback and reviews, and we're releasing new versions all the time."
Why does this continuous updating approach work? Because everyone loves a freebie, Ezone.com Apps explains. And the website recommends updates as the freebie of choice for Apple iPhone/iPad app and game developers. "Updates are an excellent opportunity to re-engage with your customer and let them re-discover your app. And the more people playing your game, the more likely someone else will see them playing and generate a word-of-mouth sale."
Case in point is Angry Birds, the most popular iPhone/iPad game of all time. Since its release, it has offered 13 updates. "If we're going to emulate the success of a gaming app, we might as well model the best," McCarthy says.
This focus on updates, however, doesn't mean McCarthy and Mobile Magnus are ignoring the other power-staying iTunes App Store suggestions. They've also made a great game that they've jam packed with heaps of fun. In particular, they've loaded Leapin' Leprechaun lite with lots of beautiful displayed images of Ireland for challenging levels and they plan to keep releasing additional level, bonus rounds and hidden levels as time goes by. Why? "Customers in the App Store love levels, and the more levels the better," Ezone.com Apps points out.
To experience some of leaping Leprechaun's early game levels and to see what all the frenzy is about, download Leapin' Leprechaun Lite at the iTunes store for free, visit http://itunes.apple.com/us/app/leapin-leprechaun-lite/id510916059