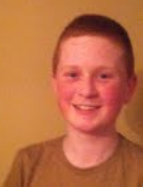 That would be so cool if Ellen were playing Leapin' Leprechaun on her iPad, heard me bringing Paddy to life with my voice and said, 'I gotta get this kid on my show!
Duluth, GA (PRWEB) March 22, 2012
Leapin' Leprechaun Lite, the new iPad game that's making waves in the iTunes App Store, wouldn't be the hit it is without it's wise-cracking lead character, Paddy the Leprechaun. Up until now, the makers of the game, Mobile Magnus, had kept the identity of Paddy's voice a secret. Now they're ready to reveal that the vocal talent behind this sensation-stirring protagonist is just your not-so-average typical 12-year-old Irish boy.
One of the things that keeps players, especially young players, coming back for more of Leapin' Leprechaun is the smart-mouthing Irish fairy at the center of it all. A good case in point is 12-year-old Cian, who says of his game-playing experience, "This makes me laugh at what the leprechaun says. I 'miss' [getting Paddy into his intended pot of gold] sometimes just to hear what he says."
Despite Paddy the Leprechaun's popularity amongst Leapin' Leprechaun players, there's no professional comedian lending his talents to the character. That honor goes to none other than a 12-year-old Irish lad named Ben who is making his entertainment debut as the voice of the part. And as the game continues to earn raves thanks in large part to its central character, he's hoping to attract the attention of talk show host Ellen DeGeneres.
Popular depictions of the leprechaun show him to be a red-headed sprite that is no taller than a small child and Ben fills those requirements to a T. "Ben is your typical 12-year-old Irish lad," explains Leapin' Leprechaun's lead designer, William McCarthy. "He has red hair, freckles and a great sense of humor. He loves having craic—pronounced "crack" and the Irish word for fun—by engaging in rugby, going to the movies, playing games and doing voices … the latter of which he just happens to be really good at. So he was a natural for Paddy the Leprechaun."
Ben hopes one other person in particular will see him as a natural talent as well: Ellen DeGeneres. In May 2010, the popular talk show host announced that she was starting a record label, which she dubbed eleveneleven. This new venture seeks out new acts and provides them with a platform on DeGeneres' talk show. The label's first release was 12-year-old internet singing sensation Greyson Chance, whom DeGeneres discovered through YouTube.
If a YouTube video can spark the interest of the talk show queen, Ben figures he's got a shot with a hot iTunes game. "That would be so cool if Ellen were playing Leapin' Leprechaun on her iPad, heard me bringing Paddy to life with my voice and said, 'I gotta get this kid on my show!'"
To learn more about the talent that sparked McCarthy's interest as the voice of Paddy the Leprechaun, contact Mobile Magnus, the maker of Leapin' Leprechaun Lite.To download a copy of the game and find contact information, visit the iTunes App Store by going here: http://itunes.apple.com/us/app/leapin-leprechaun-lite/id510916059