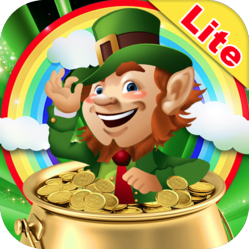 All of these enhancements add up to one thing: an increase in the overall enjoyment of the game.
Duluth, GA (PRWEB) March 28, 2012
In its quest to continue giving Apple game players more of what they want, Mobile Magnus has just unveiled the first of what is planned to be many updates to Leapin' Leprechaun Lite for the iPad. The new and improved Leapin' Leprechaun Lite 1.1 boasts new sound effects, new bonus level features, bug fixes, flurry integration and push notification.
Despite the game's obvious connection to St. Patrick's Day, Leapin' Leprechaun Lite's lead designer, William McCarthy never intended it to be a passing holiday fad. And to keep Apple game players coming back for more long after March 17 had passed, he vowed to release continuous updates. Now he's making good on that promise with the game's first major overhaul.
Fans of the original Leapin' Leprechaun Lite, which they've described as "so much fun" that they "can't wait for the full version," will find a host of enhancements and improvements with the new 1.1 version. From a developer perspective, the most important of these is integration with Flurry Analytics, which deliver powerful insight into how consumers interact with the Leapin' Leprechaun mobile application in real time. Armed with such information, Mobile Magnus can continue to increase game players' engagement and retention.
The Apple Push Notification Service has also been implemented into Leapin' Leprechaun Lite 1.1. to allow notifications from the game, like badges, sounds and custom text alerts, to be forwarded to Apple iPad devices on which Leapin' Leprechaun is played.
Fans, however, will be thrilled to learn that the Leapin' Leprechaun game-playing experience has been made better as well. The repeating sound bug in particular has been fixed while new sound effects have been added. For example, Level 3 now features the sound of a rock emerging from the sea. Players will also hear a new sound when they land Paddy the Leprechaun in a pot that is situated atop a rock and when gold sheep enter the picture. These golden ewes are a brand new feature of the bonus level and they are randomized, ensuring Leapin' Leprechaun Lite 1.1 is different every time it is played. All of these enhancements add up to one thing: an increase in the overall enjoyment of the game.
To learn more about the improvements and enhancements that are a part of Leapin' Leprechaun Lite 1.1, visit the game on the web at http://leapinleprechaun.com. To download a copy of the game, visit the iTunes App Store.