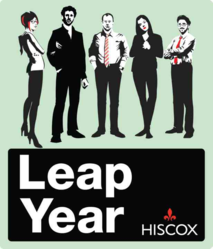 We have been championing startups internationally for over five years so there's not much we haven't seen. The ups and downs in this series will resonate with small business owners, as well as make them laugh
New York, New York (PRWEB) June 06, 2011
Hiscox, the first U.S. insurer to offer small businesses the ability to quote and buy online and over the phone direct and in real time, has taken a leap in marketing communications with its new scripted comedy series Leap Year, premiering today on Hulu™.
Produced exclusively for Hiscox as a means to market its direct and online small business insurance, the ten-episode series tracks the entrepreneurial highs and lows of five friends who make the proverbial 'leap' and go it alone in the wake of corporate downsizing.
Co-written and directed by Yuri Baranovsky, Leap Year features an impressive cast of film, television and web series talent including Craig Bierko of (Damages, Boston Legal), Julie Warner (Crash, Doc Hollywood), Alexis Boozer (Break a Leg), Wilson Cleveland (Suite 7, The Temp Life), Daniela DiIorio (Lovemakers), Mark Gantt (The Bannen Way), Drew Lanning (7-Eleven Road Trip Rally), Rachel Risen (The Temp Life). Mashable Editor in Chief, Adam Ostrow joins real-life entrepreneurs and bestselling authors Guy Kawasaki (Enchanted) and Gary Vaynerchuk (The Thank You Economy) in cameo appearances.
Leap Year is part of a suite of content put together by Hiscox for startups and established small businesses which can be found on the Leap Year website. Content includes commentary on each episode from The Young Entrepreneur Council (Y.E.C) and startup stories featuring successful founders such as Pete Cashmore (Mashable), Scott Belsky (Behance), Adam Rich (Thrillist), Michael Lazerow (Buddy Media), Josh Williams (Gowalla) and David Karp (Tumblr).
"We wanted to talk to our target audience - entrepreneurs and small business owners in professional services - in a non-traditional and exciting way," said Hunter Hoffmann, U.S. Communications Manager at Hiscox. "Leap Year follows the ups and downs that our small business customers experience every day. We have been supporting startups internationally for over five years so there's not much we haven't seen. We hope the trials, tribulations and successes the characters experience in this series will resonate with small business owners, and keep them entertained."
New episodes will debut every Monday on http://www.leapyear-hiscox.tv, Hulu™, YouTube, Inc.com and iTunes as well as on connected TVs and Blu-ray players, gaming consoles, set-top boxes and mobile devices via the subscription-based Hulu Plus service. Leap Year was produced exclusively for Hiscox by its marketing/PR agency CJP Communications through its CJP Digital Media branded entertainment group and in association with Happy Little Guillotine Films and Attention Span Media.
To learn more about Hiscox Small Business Insurance, visit http://www.hiscoxusa.com/small-business-insurance/ or speak with a Hiscox licensed advisor at (888) 202-3007 (Monday through Friday, 8:00 AM– 10:00 PM EST).
About Hiscox in the U.S.
Hiscox, the international specialist insurer, is headquartered in Bermuda and listed on the London Stock Exchange. There are three main underwriting parts of the Group – Hiscox London Market, Hiscox UK and Europe and Hiscox International. Hiscox International includes operations in Bermuda, Guernsey and the USA. Hiscox ASM Ltd, Hiscox Underwriting Ltd and Hiscox Syndicates Ltd are authorized and regulated by the UK Financial Services Authority. The ability of syndicates at Lloyd's to do business in the USA and its territories is restricted as they are not US-based insurers.
Hiscox Inc., a Delaware corporation headquartered in New York, d/b/a Hiscox Insurance Agency in CA, is a licensed insurance intermediary for admitted and surplus lines business. Hiscox Inc. underwrites on behalf of, and places business with, Hiscox Insurance Company Inc., other domestic insurers, and syndicates at Lloyd's (http://www.lloyds.com). Hiscox Insurance Company Inc. is a Chicago, IL domiciled insurer which is admitted or licensed to do business in all 50 states and the District of Columbia.
Inquiries as to insurance, products or services, other than those offered by Hiscox Small Business Insurance, should be directed to an insurance agent or broker licensed to conduct business in the relevant U.S. state. For further information about an insurer's ability to do business in the USA and US territories please contact a licensed agent or broker for advice.
This communication provides general information on Hiscox's products and services only and, except with regard to Hiscox Small Business Insurance, is not intended to be, and does not constitute, a solicitation of business by syndicates at Lloyd's from or in respect of the USA or U.S. territories. The information contained herein is not a part of an insurance policy, and may not be used to modify any insurance policy that might be issued. In the event the actual policy forms are inconsistent with any information provided herein, the language of the policy forms shall govern.
About Hiscox Small Business Insurance
Hiscox is the first company in the U.S. to offer insurance coverage for professional services businesses with 10 employees or less direct, online, and in real-time. We provide professional liability, general liability and business owners insurance, underwritten by Hiscox Insurance Company Inc. We also offer workers' compensation insurance provided by EMPLOYERS®. Hiscox Insurance Company Inc. is rated 'A' (Excellent) by A.M. Best Company.
About Employers Holdings, Inc.
Employers Holdings, Inc. is a holding company with subsidiaries that are specialty providers of workers' compensation insurance and services focused on select small businesses engaged in low-to-medium hazard industries. The company, through its subsidiaries, operates coast to coast. Insurance is offered by Employers Insurance Company of Nevada, Employers Compensation Insurance Company, Employers Preferred Insurance Company, and Employers Assurance Company, all rated A- (Excellent) by A.M. Best Company. Not all insurers do business in all jurisdictions. Additional information can be found at: http://www.employers.com.
EMPLOYERS® and America's small business insurance specialist® are registered trademarks of Employers Insurance Company of Nevada.
Disclaimer
Coverages are subject to underwriting and may not be available in all states. As of December 31, 2010, Hiscox Insurance Company Inc. had admitted assets of $63,021,985 and policyholders surplus of $52,782,927. Total liabilities were $10,239,058 (inclusive of $4,731,628 in reserves) and paid up capital stock was $4,200,000.
###