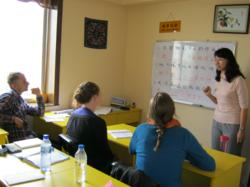 USD 640 for a 20-week Mandarin Chinese course at Keats School. For students who are in between jobs or have just graduated, this is one of the best choices to gain a skill.
(PRWEB) January 24, 2012
Keats School in Kunming has created a new Chinese language program for anyone who wants to learn Chinese in China with an affordable price. This program has 4 levels of small Chinese classes - beginner, elementary, intermediate and advanced. There are 10 students in each Chinese class. Students will study Chinese 2 hours a day, 5 days a week, 20 weeks for one semester. There are two semesters a year, spring semester and fall semester. The tuition fee is USD 640 per semester. Long term student visas and spousal visas are provided by Keats School. For students who want to live in Kunming for long term, a student visa is a perfect way to get resident permit.
Keats School is the only Chinese language school in China Kunming which offers full services and is located in the city center. For students who want to learn Mandarin in China, it provides intensive one-on-one Chinese language instruction to overseas students. Teachers at Keats, who speak standard Mandarin and fluent English, receive professional training and use unique teaching methods created by their own.
In order to meet the needs of all students who want to study in China, Keats School develops individual curricula to suit each student's proficiency level and goals. Their versatile methods and variety of activities will maximize the amount that students learn in the time students study Chinese here. After learning Chinese in China at Keats, Chinese learners will be well on their way to fluency. Keats School's Chinese culture lessons provide a bridge that links the students to the rich and profound Chinese culture with fun and happiness.
Keats School also provides comfortable single dorm rooms for students located in the same building as the school. Eating in the school is much more convenient than eating outside while students learn Mandarin in China. Most of the students choose to eat in the school because Keats offers a variety of Chinese food every meal. When students study Chinese in China and join Kunming Keats School, they can rest assured knowing that they will never have to deal with the hassles and uncertainties of traveling and studying on their own.
Keats School believes that the teaching quality is the fundamental element of being a successful Chinese language school. Therefore, the Teaching Quality Control Team is responsible for checking teacher's daily syllabus and lesson plan, organizing teaching conference every two weeks, training new teachers, and collecting students' feedback forms every week to make improvements in time. In addition, members of TQCT gather together every week and write reports to analyze the strength and weakness in teaching of the whole week.
Keats teachers, with a strong sense of responsibility, are evaluated by students and their supervisor every week. The feedback is important for teachers to help students learn Mandarin quickly and efficiently. In order to have a perfect Mandarin course and achieve an excellent result, students can tell the teacher the real feeling about the lessons by filling the evaluation form, and changes will be made based on their requirements to attain a better result. Keats teachers have teaching conference every two weeks to communicate new methods of teaching and students' feedback.
If the students are unable to come to China to learn, Keats School also has online Mandarin lessons. Students can learn Chinese online anywhere and anytime.
Situated in one of Kunming's central business districts on the bustling Dongfeng Road, Kunming Keats School is a short walk away from restaurants (Chinese and Western), cafes, bars and gyms. The rest of the city's hot spots are but a bus or cab ride away.
###