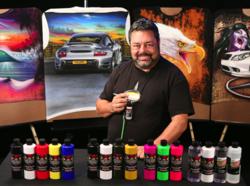 "I've opened the floodgates on revealing some of the coolest, cutting-edge airbrush techniques. Beginners to pros are welcome, and I promise that by day four, everyone will be able to produce professional-caliber work."
Wall, New Jersey (PRWEB) August 10, 2012
Terry Hill, one of the most recognizable names in the airbrush industry, brings his 30 years of experience to a new Airbrush Getaway class: Ultimate Airbrush Techniques & F/X. The four-day workshop, October 9 through 12 at the New Tropicana Las Vegas, is the definitive hands-on art course and is designed to bring students to new heights of airbrush art proficiency.
Ultimate Airbrush Techniques & F/X is based on the popular Airbrush Action DVD of the same name, and provides instruction on more than 30 amazing airbrush special effects including ghost flames, wood grain, surface cracking, carbon fiber effect, leopard print, and killer skulls in minutes, as well as more than 50 top pro tips and tricks including working with Auto-Air Colors' water-borne paints, airbrush and spray gun handling, use of reducer, and the hinge method of applying stencils.
After taking Ultimate Airbrush Techniques & F/X instruction from Terry Hill, a frequent contributor and editor to Airbrush Action magazine, and an integral part of the esteemed Airbrush Getaway workshop program, students will be able to airbrush onto virtually any surface or application, including cars, trucks, helmets, wall murals, decorative arts, model/hobby, illustration, fine art, and much more.
"I've opened the floodgates on revealing some of the coolest, cutting-edge airbrush techniques," explained Hill. "Beginners to pros are welcome, and I promise that by day four, everyone will be able to produce professional-caliber work."
The cost for this four-day class is $575, and includes all supplies and equipment. Other one-day courses include Introduction to Airbrushing, T-Shirt Lettering Bootcamp, Airbrush Tattoos, Intro to Murals on Steel, and Intro to Automotive Graphics. Four-day course include Airbrush Mastery, Automotive Graphics, Achieving Photorealism, Power Portraits, Automotive Murals on Steel, and others. For discounted room reservations, call 800-634-4000 and mention "Airbrush Getaway Workshop, group code SAIR10." For more workshop information, you may call 800-876-2472 (international callers: 732-223-7878), or visit http://www.airbrushaction.com.
About the Airbrush Getaway:
"The Airbrush Getaway is a one-of-a-kind event—the world's best airbrush immersion program," according to Cliff Stieglitz, Airbrush Action's publisher. "It's ideal for artists and non-artists seeking to learn new skills or take their art to professional levels."
The Airbrush Getaway has attracted students from all over the world and from corporations as diverse as Disney, AT&T, Boeing, Texas Instruments, Hallmark and many others, as well as freelance artists, small business owners and students of all skill levels. Students come away learning how to make thousands of extra dollars airbrushing, and many claim that what they learn in four or five days at the workshop would take years to learn on their own.
"We've worked hard to develop our exceptional faculty," Stieglitz explains. "All our instructors are at the top of their field. A special comradery and bond develops between students and staff at every Getaway."
Former Student Quote:
"I'm blown away! This is my passion. The Getaway classes make me realize how far I can go."
—Quincy Russell, Cenla Customs, First Time Getaway Attendee
About Airbrush Action Magazine:
Founded by Cliff Stieglitz in 1985, Airbrush Action magazine is the longest continuously published airbrush magazine in the world. Distributed internationally through Barnes & Noble, Books-A-Million, 7-Eleven, all military branches, and many other mainstream outlets, Airbrush Action is edited for airbrush enthusiasts and art professionals. It covers all popular applications of airbrushing, including body art, automotive custom painting, T-shirt airbrushing, tattoo art, pin-up art, hobby/model uses, illustration, fine art, and more.
For more information, please visit our website Airbrushaction.com or contact
Cliff Stieglitz, Airbrush Action magazine publisher, at ceo(at)airbrushaction.com.