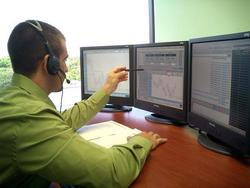 Without a basic knowledge of how the forex and stock markets operate, novice traders can lose their invested money within a few hours of starting to trade.
New York, NY (PRWEB) December 28, 2009
Many novice investors are not aware that successful stock and forex traders, with extensive experience and millions of dollars in profits made over the years, have now developed free-of-charge trading video tutorials to pass on their deep market knowledge and insights. Such videos are available on the new vlog "Learn-To-Trade-For-Free.com", which is certainly the best platform for students keen to learn how to trade properly.
People who want to make their riches by trading in the forex and stock markets must understand that trading in currencies and stocks involves substantial risks. These risks are particularly high in the forex market because currencies can rise and fall abruptly. Without a basic knowledge of how the forex and stock markets operate, novice traders can lose their invested money within a few hours of starting to trade says JWB AIME. However, as noted earlier, these risks accompany the exceptional opportunities to make money quickly. Learn to trade for free .com is therefore the right solution for traders to acquire all the necessary tools in order to trade at the lowest possible risk for the optimal investment return.  
The website compiles the various sources of trading video tutorials and blogs, containing the precious educational material on the forex and stock market trading. It allows students to enroll in a real trading school—a personal trading university—where students of the forex and equity markets can develop their learning curricula with some of the world's most renowned traders. These seminars cover various trading techniques and information on foreign exchange, futures, day trading, money management, stocks and other investment vehicles and trading tools. Moreover, this portal enables novice and processional traders to communicate freely via blogs and exchange information, trading ideas, and tips. These blogs are thus an excellent way to ask questions and get answers from the top traders from around the world. In addition, the featured blogs offer trading video tutorials from the top professionals, offering invaluable trading tips, ideas, and market analysis.
The expertise acquired via trading video blogs is truly invaluable. The blog teach students not only how to start trading but also how to use successfully the foreign exchange analysis, news, and the various strategy insights in order to make as much money as possible. The website also offers comprehensive previews and summaries of trading tips and ideas that, when properly applied, enable novice traders to take advantage of both upward and downward moves in the currencies and stocks. Hence, the trading video blogs teach traders how to make money no matter whether the market is up or down.
The trading video tutorials featured on the learn to trade for free website also teach students about fundamental analysis that relies on the use of economic, financial, and political news to determine the most appropriate trading decisions. Moreover, it provides insights into technical analysis, or how to use charts to predict price movements based on the past trends in prices. Traders also have the opportunity to learn how sophisticated trading techniques, including the application of statistical tools and properties, such as averages, can affect currency and stock price movements. These techniques enable new traders to anticipate price swings, spot turning points, and avoid making wrong trading decisions.
The various trading tools available on the http://www.learn-to-trade-for-free.com/ make this website the ultimate source of information about how to learn to trade currencies and stocks. In the brand new live chat room, students can ask any question or request more information on a particular topic. Rich in tips and insights from the most experienced traders, the video trading blogs featured on the website ensure that novice traders have access to the necessary means to make money in the forex and stock markets.
# # #