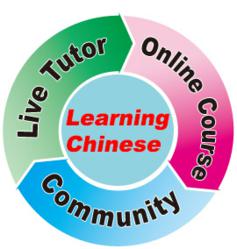 The blended learning approach ChineseTime adopted is highly effective. Students can learn and practice the language with a tutor from China and learn the online course anytime, anywhere
Shanghai (PRWEB) July 17, 2012
ChineseTime School (the leading online Chinese language school based in Shanghai, China), is celebrating its six-year anniversary. Since its launch in 2006, ChineseTime has helped more than 10,000 students from all over the world learning Chinese. "More and more people want to learn Chinese around the world every year, but not everybody has the chance to go to China to learn Chinese, our goal is to help those people so they can learn Chinese easily at their home" says Min Cao, ChineseTime CTO.
To help students who are not in China or who need flexible schedules to learn Chinese, ChineseTime has spent a lot of resources on their online school. To ensure the course quality, the most experienced teachers of ChineseTime spent more than one year to write their own teaching books. East China Normal University Press has published three books of them, which are available on Amazon China now. Based on the text books, the online school has more than 4,000 course pages, 10,000 mp3 audio files and around 1,000 exercise games. Right now, there are 4 course programs in total, which are "Practical Chinese", "Chinese Characters", "Pinyin Course" and "Travel Chinese." While a student is learning the online course, the online school will track the study data, so he can check his learning progress later by the report. In 2010, ChineseTime was chosen by Alibaba.com (The world's largest B2B online market), as exclusive partner of "learn Chinese" channel for their customers.
Besides the online course, ChineseTime has a professional online teacher team in Shanghai, China. Most of the teachers graduate from the university majoring in "TCSL" (Teaching Chinese as a Second Language) and have rich teaching experiences. "The best way to learn a foreign language is to study with a native teacher, so I can have chances to practice with the teacher" says Ranti Odimayo, from US, "My teacher is truly professional, and she is very patient. Before I study with ChineseTime, I knew a few basic Chinese words, but I cannot communicate with Chinese people, after 3 months study, now I can talk with my teacher in Chinese! ".
There are also many free study tools and useful articles about China and Chinese culture on their site. For example, for people who are going to travel to China, they can read the "China Travel" channel for useful information, and they can use this tool, "Learn Chinese Free" to learn a few Chinese dialogues first before travelling to China. And for people who want to test how well their Chinese is, there is a Proficiency Test and a Vocabulary Test…
If a person wants to make friends who also interested in learning Chinese, ChineseTime is also the perfect place! He will find friends from all over the world in the learning community.
The last, to celebrate the 6-Year anniversary, the school provides a special offer now, one can get maximum 30% off for the Chinese courses.