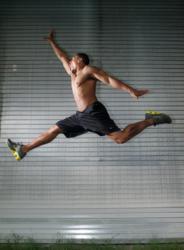 5'5 with a 44 inch vertical.
Washington D.C. (PRWEB) February 18, 2013
Now that the NBA All Star weekend is over, many fans are hoping and wishing to play at the level these All Stars have. Many young kids wishing to dunk or be in the NBA are stating that fact all over Twitter and Facebook. The All Star game was great. Congrats to MVP Chris Paul and the West. The dunk contest however didn't get the same accolades the game did. A lot of rumors surrounded Lebron James' involvement in the contest, but it didn't happen. Brandon hoped that Lebron would've entered, saying "All the greats have entered and won the Dunk Contest. Players like Michael Jordan, Vince Carter, Kobe Bryant, and Dominique Wilkins. Even better are the shorter dunkers like Spud Webb at 5'7, and 3 time winner Nate Robinson at only 5'9. That is what Brandon wants to help his audience with. Short athletes achieve greatness
To Celebrate over 15,000 downloads in 2 months, and in light of the All Star weekend success, Brandon & WellAnywhere.com have decided that till March 15th, the price of the FlytRight app will be reduced by 50% off. A Facebook share is required to be eligible for the discount, but the pricing change will make it easier for many people to take hold of the complete program and change their vertical limits.
For players between 5'8 and 6'3, the FlytRight program can make the difference between getting drafted to a great college program, to even the chance of playing in the NBA. Brandon showcases a few of his spectacular dunks, and some of the workouts that transformed his frame from a scrawny 120lbs to 200lbs of pure muscle. http://www.youtube.com/watch?v=QnDN_JxcOdg
Too many people think that a dunking program would solely be focused on lower body training. It's not just about lower body workouts, but rather full body workouts. Not having the upper body strength to move people won't make it easy to get to the rim. The FlytRight program gets the complete body ready to compete at a high level. Any 6'5 person can throw out easy tips on dunking. Their height, and wingspan make it easy. Learn real strategies from someone that isn't as tall. At 5'5 the work that was needed to achieve a 44 in vertical was immense. Overcoming height isn't an easy feat, and many readers aren't so gifted when it comes to height. His personal website, http://www.brandontodd.tv , and has been teaching 10′s of thousands of people his training techniques.
The program however isn't for anyone that wants a quick fix or pill to make it happen. There is no such thing. The program requires the body to change through training, stretching, plyometrics, weight lifting, and diet. This isn't easy, but nothing truly worth it is. The app is available in the app store for free, with additional paid content. Here is the download link: http://bit.ly/13jE6IR
Most people will dunk in 10-16 weeks, but FlytRight is a 22 week program in total. 2 weeks free to get you started… gaining 2-5 inches. Basic is the next 4 weeks, Intermediate another 4 weeks, and advanced rounds out the main program with 6 weeks. There is a maintenance program that's 6 weeks that you cycle, 6 weeks on, 2 weeks off, 6 weeks on and so forth.
Brandon Todd originally from Ohio, resides near the Washington D.C. metro area, and trains at local facilities and in-home. He took the weekend off to enjoy the NBA All Star weekend, and to Celebrate the 50th birthday of Michael Jordan. "He's the reason many of us wanted to attain a better grasp of the game of basketball." - Brandon. Brandon has played with many greats that are now in the NBA like Lebron James, Kevin Martin, Omni Smith, Danny Gibson and many others. He was 1st team all-Ohio alongside Lebron James. He currently train many athletes that play in the NBA, NFL, and in other professional sport arenas. You can learn more about Brandon on his website, or his wikipedia page here: http://en.wikipedia.org/wiki/Brandon_Todd