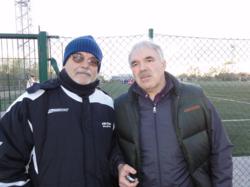 The Spanish way means learning to triangulate and dominate possession, mastery of balls skills to ensure technical superiority. Our Spanish coaches teach the Spanish Way.
~ Joey Bilotta, Owner, EI
Madrid, Spain (PRWEB) July 16, 2012
This July and August youth soccer players from around the world are assembling in Spain to learn futbol the Spanish way with EduKick Madrid International Football Academy summer soccer camps.
EduKick Madrid International Football Academy is just finishing up its annual July Spanish soccer camp located in Madrid and will be welcoming a new batch of young international football talent to its highly regarded ELITE CAMP in August. The Elite Camp is open to competitive male players only from 14 to 19 years of age.
EduKick Madrid offers serious international young footballers several innovative training and educational programs (Middle/High School or Spanish Language Study options) at the EduKick Madrid Football and Education Academy Boarding School.
EduKick Madrid offers "Academic Year" football boarding school courses, monthly training programs, and of course the summer Spanish & Soccer camp in July and ELITE Camp in August each year. This football and education academy in Spain is directed by the famous futbol brothers from Madrid, Anselmo and Poli Vicioso Aragonés. They are licensed, veteran Spanish coaches and the nephews of legendary Spanish national team coach Luis Aragonés.
At this unique football boarding school players train daily under EduKick Madrid accredited technical Spanish staff coaches. Yearlong academy players are encouraged to arrive early to attend the pre-season training option because during this period they will have the opportunity to try out for the youth sector squads of our affiliated 3rd Division professional Spanish club, A.D. COLMENAR VIEJO.
Sergio Leon, the EduKick Madrid technical head soccer coach, personally conducts all futbol training sessions and oversees all friendly matches for both the co-ed July camp and the more intense (boys only) ELITE CAMP in August. EduKick Madrid also recently announced the addition of 2008 Euro Cup winner, coach Jesus Paredes as technical football advisor.
The EduKick Madrid residential dorms (for both summer campers and yearlong academy players) are located on the campus of the University of Madrid. Players enjoy full board and three meals daily in the modern facilities which feature single and double rooms with private showers, air conditioning, kitchenettes, and free Internet / WIFI service.
EduKick is still accepting registrations for their ELITE CAMP in Madrid that begins August 1, 2012. Interested parties should contact EduKick to inquire about the August Elite Camp or the September start of the academic year football and education course.
EduKick Mission: To operate the world's leading international soccer/football and education academy boarding schools; building strong business relationships in a vibrant, creative and ethical international football environment. To teach, inspire and create the best technical footballers possible and create international students with inter-cultural competence (ICC) enabling them to compete in the modern competitive world.