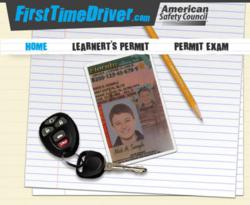 FirstTimeDriver.com offers everything teens need to get their licenses.
Orlando, FL (PRWEB) June 30, 2011
The American Safety Council (ASC), the original provider of online driver license knowledge testing in the state of Florida, has submitted its application to the Florida Department of Highway Safety and Motor Vehicles (DHSMV) to resume offering online driver license tests to Floridians under 18 years of age on its FirstTimeDriver.com Web site. The DHSMV, in response to enactment of Senate Bill 2160, is in the process of reimplementing online driver license exams as early as July 1, 2011, providing students the opportunity to complete their learner's permit knowledge testing requirements entirely online.
ASC also offers a 100% online test prep service on FirstTimeDriver.com. This learner's permit prep aims to assist Florida's youth in preparation for the online license exam entirely online. Prepared by a former DHSMV driver license supervisor, the permit prep provides access to DMV practice tests, video tips, 30-hour online driver education course, DMV document requirements and appointment scheduling.
"American Safety Council will reintroduce the online learner's permit tests in a convenient and cost-effective manner," announced Jeff Pairan, Executive Vice President of the American Safety Council. "We are excited about the opportunity to bring the exam back online."
Beginning January 1, 2011, teenagers looking to meet the written exam portion of their learner's permit requirements were directed to local driver license or Tax Collector's offices. The announcement of the online exams recommencing will lessen the burden on parents and Florida's youth while also reducing the traffic at local driver license and Tax Collector's offices.
"Students taking their Traffic Law and Substance Abuse Education course online this year have been required to take the learner's permit exam portion in person," stated Bob Proechel, President of the American Safety Council. "This new program allows any student who has not taken their learner's permit exam the ability to go online and do so."
FirstTimeDriver.com, provided by the American Safety Council, offers the Drug Alcohol and Traffic Awareness (DATA or TLSAE) course, learner's permit test, and learner's permit test prep online for students to prepare and pass their exams on the first attempt. ASC has redesigned FirstTimeDriver.com to accommodate these online offerings. Students can choose to take the DATA/TLSAE course, the exam, and the test prep from one convenient Web site. As of July 2011, not only can students meet the DATA/TLSAE requirement, but also fulfill all course and exam requirements before going to the DMV (pending DHSMV approval).
For more information about American Safety Council First Time Driver programs or online learner's license exams, visit FirstTimeDriver.com. ASC and its affiliated organizations offer online driver education, workplace safety training, governmental services and professional continuing education programs, in association with state and federal regulatory agencies, state universities and court systems. For additional information, please contact the American Safety Council at 1-800-732-4135 or visit http://www.americansafetycouncil.com.
###