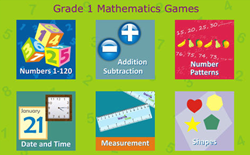 Princeton, NJ (PRWEB) September 26, 2013
Learnhive, an adaptive learning company, has released "Grade 1 Math Games" App that makes learning Math concepts enjoyable and engaging. The 23 games included in this App are interactive, colorful, intuitive, and above all encourage the student to think and apply the skills they have learned, when they play these games.
The 23 games included in this App, cover the following Math skills:
1. Numbers 1 to 120
2. Greater than or Less than
3. Even or Odd
4. Place Value
5. Counting in Groups
6. Pictorial Addition
7. Addition
8. Pictorial Subtraction
9. Subtraction
10. Ascending and Descending Order
11. Find the Missing Number
12. Skip Counting
13. Days and Months
14. Order Days and Months
15. Telling Time
16. Set the Clock
17. Just in Time
18. Measurement of Length
19. Measurement of Mass
20. Measurement of Capacity
21. Identify Shapes
22. Identify Solid Shapes
23. Spatial Understanding
Learnhive specializes in providing after-school learning solutions that makes curriculum-based learning more effective and fun, and move from rote learning to 'learning to learn.' Visit Learnhive to find out more about how it is helping students do better in school.