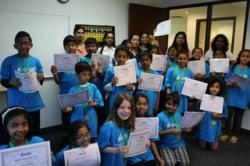 The competition preparation boosts the children's self-confidence and makes them better in their abacus and mind math skills, ALOHA CEO, Mani Manickavelu
Edison, NJ (PRWEB) May 30, 2013
The ALOHA Math Olympiad, a competition where students ages 5 to 12 compete to solve mental math calculations, often faster than a calculator, is an annual event at ALOHA learning centers. In 2013, the Olympiad was conducted in over 70 locations across the USA, in 15 states, with over 3000 children participating in the events in early May 2013; this release highlights participating ALOHA locations in Pennsylvania, Georgia and in California.
This event might seem difficult for young students, but the ALOHA learning center teachers and parents help the children to prepare over a four-month period. Centers across the country conducted the Math Olympiad where students are given 50 complex questions to solve in 5 minutes in competition with other students in their age group. Most centers celebrated the Olympiad as a day-long affair with entertainment shows, teacher recognition, a recognition of ALOHA graduates on stage with plaques and gowns; trophies are awarded after the Olympiad.
These events help get kids excited about math and provide a fun way to use their skills and progress rapidly in their learning. ALOHA Mind Math CEO, Mani Manickavelu believes that "the competition preparation boosts the children's self-confidence and makes them better in their abacus and mind math skills." Winners receive trophies and certificates and each participating child is recognized for their hard work and effort.
ALOHA Students display their mental math capabilities by solving a complex sequence of numbers and operations in front of an audience of teachers and parents. Some of the audience followed them using their calculators but were in awe when they were trailing behind in finding the results. Afterwards, prizes are awarded to the winners, along with lots of applause for all students. Click here to see a video of one Math Olympiad competition with students in action.
Among the 70 centers participating in the 2013 Math Olympiad were:
ALOHA Math Olympiad in Bay Area California:
Over 100 students participated in the Bay Area of San Francisco, CA Olympiad. Participating locations were ALOHA Cupertino, ALOHA Fremont, ALOHA Milpitas, and ALOHA Union City. The event was held at Jain Temple of Milpitas. Here is what the parents of a student enrolled in the Cupertino, CA ALOHA center have to say about the program: "My son has been coming to ALOHA, since last year" says Mr. Kannan. "It works great for him, and helped his confidence tremendously in school as well."
ALOHA Math Olympiad in Atlanta, Georgia:
Seven ALOHA Mind Math centers and 240 students from in and around Atlanta, GA participated in the Math Olympiad, a fun competition for students, on May 4, 2013, at Berkmar High School on Pleasant Hill Road. After the competition, individual centers awarded trophies to winners.
ALOHA Math Olympiad in Southeastern Pennsylvania:
On May 4, 2013, a total of 150 students and parents attended the Regional Math Olympiad from ALOHA Mind Math learning centers in King of Prussia and Exton, PA, just outside of Philadelphia. The event was held in the Bayer's Station Community Center in Chester Springs, PA. In addition to the Math Olympiad, the day's events included a featured a speaker Raj Subramanyam, Senior Manager at CSL Behring, spoke about what kind of skills our children will need in future to become effective leaders and how ALOHA Math can be helpful in achieving it.
Click here for a video testimonial from an ALOHA Mind Math learning center.
About ALOHA Mind Math
ALOHA Mind Math, was introduced in the United States in 2006 and today has a presence in over 18 states, 23 countries and 4,200 locations. ALOHA has 150 tutoring centers in the USA including AL, CA, CT, FL, GA, IL, KY, MA, MI, MO, NH, NJ,NY, NC, OH, PA, TX and VA. With the help of the abacus, ALOHA has created a whole new dimension in the field of teaching math and the language arts to young children helping them overcome their fear of arithmetic and numbers. Discover the Genius in your Child. For information, visit alohamindmath.com or contact the nearest ALOHA tutoring center to you and schedule an orientation. For resources on teaching your kids, see ALOHA's blog for kids at ALOHAMath.com.