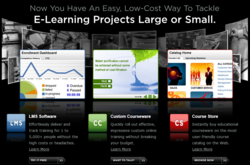 Atlanta, GA (PRWEB) January 20, 2012
Intellum, Inc., the Atlanta-based learning management system company, is proud to announce that it will be presenting a paper at the Node Summit, an innovative technology conference attracting attention from major companies like Intel, Microsoft, and VMware, being held this year at the Mission Bay Conference Center in San Francisco from January 24th to the 25th.
Intellum's Luc Castera will present a paper entitled "Helping Apps to Work Together." The paper and presentation at the Node Conference is the result of their GroupDock project, which is focused on making enterprise-level HTML 5 applications, including Intellum's learning management system, work together efficiently.
Intellum applied to attend the Node Summitt as an effort to share and spread its desire to remove what it sees as a "sea of hard to remember logins and patchy integrations" that keep vital HTML 5 applications from being truly effective. While Intellum focuses on expanding the effectiveness and reach of learning management systems to web-enabled and mobile devices, the company looks forward to progressive conversations and relationships with other technology leaders interested in improving the integration and efficiency of business applications.
About the Node Summit:
Node Summit strives to bring experts in technology and business leaders together to talk about how node.js (a software system designed for writing internet applications that are highly scalable) will transform the future of computing.
Day One features individual talks and panel discussions focused on key areas being transformed by demand for real-time access, large scale deployments, cloud computing environments and the need to connect with millions of devices. Day Two features a select group of startup companies participating in the first annual NodeJam. Each company will have five minutes to pitch their company, explain how they are leveraging Node.js, and convince the audience and the NodeJam judges to come and learn more in the NodeJam Demo Hall. 
The "Node" in "Node Summit" is short for node.js, a software system designed for writing internet applications that are highly scalable. Node.js is based on the V8 Javascript engine from Google Chrome, and unlike most javascript it is not executed in a web browser but is instead a form of server-side (aka Client-side) javascript.
About Intellum:
Intellum is a software and services company based in Atlanta, GA. Founded in 2000, they provide pay-as-you-go learning management solutions, custom courseware, and off-the-shelf course solutions for 5 to 50,000 learners. Intellum services the needs of hundreds of clients with learners in over 50 countries and almost every market.
###