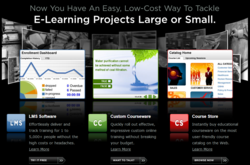 atlanta, ga (PRWEB) February 01, 2012
Intellum, Inc., the Atlanta-based provider of custom learning management system solutions, will exhibit their Rollbook LMS, courseware solutions, and decades of experience at the Training 2012 Conference and Expo from February 13th to the 15th, 2012.
The 3-day conference, produced by Training Magazine, showcases companies and thought leaders in training assessment, development, ROI, instructor-led training, measurement, evaluation, management and design. The conference is scheduled for at the Georgia World Congress Center in Atlanta, GA.
Intellum is excited to exhibit their products and share their decades of learning management system experience with their peers and market leaders attending the influential industry event, which this year is focusing on elearning and technologies that bring training and learning to web-enabled mobile devices. Their e-learning solution, which includes pay-as-you-go hosted LMS solutions, as well as off-the-shelf and custom courseware, is also increasingly targeted at mobile and virtual training solutions.
About the Training 2012 Conference and Expo
Produced by Training magazine and Lakewood Media Group LLC, the Training 2012 Conference and Expo is the 35th installment of a conference that has long showcased the best in training and skill-building training content.
The conference and expo has special tracks that it will focus on over the three days. The Training 2012 Conference and Expo is perfect for those looking to build their skills in foundational tracks. It also provides opportunities for professional training and career development. There's no better place to network and gather insight into the training industry than this 3 day event February 13-15, 2012.
About Intellum
Established in 2000, the Atlanta-based Intellum, Inc. is a software and services company that provides pay-as-you-go learning management solutions, custom courseware and off-the-shelf course solutions that can handle anywhere from 5 to 50,000 learners. Intellum's Learning Management Systems are being used by hundreds of clients in over 65 countries and hundreds of cities around the world. Intellum's focus is on creating an easy-to use learning management system that can be easily adapted to fit a task of any scale and importance.
###