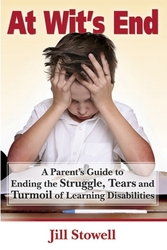 At Wit's End is designed to help parents understand what's going wrong with their kid(s) and what to do about it.
Chino, CA (PRWEB) September 22, 2010
Parents who are tired of watching their smart student struggle through school now have a new book to help them solve the problem—permanently. Entitled At Wit's End—a Parent's Guide to Ending the Struggle, Tears and Turmoil of Learning Disabilities, the book takes a unique approach to addressing the subject of learning disabilities. Written by veteran educator Jill Stowell, At Wit's End is the first book of its kind geared directly toward helping parents figure out why their bright child is having difficulty at school.
"At Wit's End is designed to help parents understand what's going wrong with their kid(s) and what to do about it," Stowell said. "It will also help them understand that traditional tutoring and schools don't solve learning problems."
Stowell—who has spent more than 30 years in the education field—maintains that schools simply are not equipped to help students overcome learning disabilities. Currently, 14.9 million school children with average to above average IQs are failing or struggling to read, write, spell or just to pay attention, according to Stowell. That equates to about 30 percent or one in every three students. "About 2.5 million will be formally diagnosed with learning disabilities, and the rest will be told that there's nothing wrong," Stowell said. "But worse, even those who qualify for extra help at school will not have those problems solved. Instead, they will be taught better coping strategies."
However, brain research and years of practical experience indicate that such students can perform as comfortable, independent students in regular classes—if they build the underlying skills that support learning. The problem is that schools normally don't teach those underlying skills, which is why Stowell began offering a brain training system to help providers both nationally and internationally effectively address learning issues. It's also why she has written her new book.
At Wit's End covers the topic of learning disabilities in an easy-to-understand style that helps parents comprehend the big picture. "It's the 'behind-the-scenes' explanation that schools don't know and won't tell you," Stowell said. "It also explodes the biggest myth that schools operate on—that if you are learning-disabled you will always be learning-disabled."
Stowell's engaging new book is being released at a time when school budgets are being slashed nationwide, reducing students' access to special education. At Wit's End is a valuable tool that any parent can use to cater to their child's specific needs. It addresses a variety of perplexing learning-related issues, including:

Why a smart, but struggling child is not lazy or unmotivated
How traditional views of supporting struggling students are actually keeping them captive to their learning challenges
What can and must be done to permanently correct these challenges
Where to go for help
Many of the concepts expressed in the book go against traditional approaches and conventional wisdom. However, the book's engaging style, compelling real-life stories and field-tested tactics are proving quite intriguing to readers. At Wit's End is already receiving positive reviews from both parents and educators, who have commented:
"This is a wonderful resource for any parent who has a child that just isn't 'making it' in school. It's comforting to know that I am not alone in believing that my son can learn despite his years of turmoil in the school system. It gives us exhausted, frustrated parents hope that there is an answer to our child's learning problems."
"As an experienced, credentialed teacher, I want to make the information in Jill Stowell's book available to every teacher and parent out there! This book offers understanding for parents, explanations that make sense, solutions that work...and, most of all, hope. Learning challenges do not have to be permanent."
"At Wit's End" is available at Amazon.com for just $14.95. For more information about the book or how to solve learning disabilities, please visit http://www.parentsatwitsend.com. Or contact Jill Stowell directly at (909) 598-2482.
About Jill Stowell
Jill Stowell is a dedicated educator who has helped more than 4,000 students solve their learning issues through Stowell Learning Centers Inc. Since 1984, the privately-owned business has designed systems that solve a range of issues, including learning disabilities, dyslexia and attention challenges. Her programs and systems also have a positive impact on children with weak or inefficient learning skills, as well as high-functioning autistic students. Stowell earned a master's degree in learning handicaps at Cal State Fullerton and a bachelors at Pepperdine University. She worked as an award-winning, public school teacher in regular classrooms, GATE, bilingual and special education. Stowell, who resides in Chino, Calif., holds a lifetime California teaching credential. In addition to being an author and private teaching practitioner, Stowell is also available for speaking engagements.
# # #