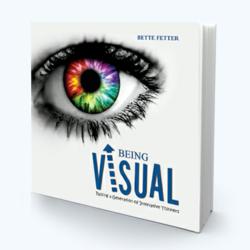 Being Visual is a powerful call to reinstate the arts in a child's education.
Chicago, Il (PRWEB) August 28, 2012
Our current test-focused education system is failing the majority of students who need to learn visually. After more than 20 years teaching children, building curriculum and researching the impact of art on children's education, Bette Fetter, founder and CEO of Young Rembrandts Franchise, shares her insights with parents and educators in a new blog and book titled Being Visual: Raising a Generation of Innovative Thinkers. Both the book and blog are powerful tools for parents, educators, and anyone interested in improving educational outcomes for all learners.
The Being Visual blog provides tips and tricks designed to help your child learn better, make homework easier and increase your child's self-confidence in the classroom. Each blog post takes this conversation further, sharing directed, how-to information for parents of visual learners, including detailed activities, quizzes and tips for parents to help instill successful study techniques and learning habits. Covered topics include:

Understanding your child's learning style
Tips and tools to make homework easier and school more interesting
Study and writing techniques for visual students
The importance of art in a child's development and education
Visual needs of students with autism, ADD and dyslexia
In her new book, Being Visual (available September 2012), Fetter shares what her experience, clinical research and educational experts have to say about the way children learn, ways to improve education, and the value of arts on developing minds.
About the Author
Bette Fetter, Founder and CEO of Young Rembrandts, Inc., began her career as a professional artist with a bachelor of Fine Arts degree from Northern Illinois University. Through her education, participation in various forms of the arts and experience with Montessori education, Bette gained first-hand understanding of the value of the arts on developing young minds.
Her passion for the arts and early childhood education led Bette to develop Young Rembrandts, a unique teaching methodology focused on developing foundational art and drawing skills in young children. Bette franchised her business, and what began 24 years ago with eight kids at her kitchen table now reaches tens of thousands of children nationally and internationally.
While writing Being Visual, Bette received her MBA from Roosevelt University in Chicago, Illinois. Bette is the President of Brilliant Arts, a non-profit organization whose mission is to provide and support arts programs for children that aid in the development of neural and cognitive learning skills. Overall, Fetter's mission is to reach children and adults alike in order to "raise generations that value the power, the passion and the significance of art."
Visit Bette's Being Visual blog, at http://www.being-visual.com.
About Young Rembrandts
Founded in 1988 by Bette Fetter, Young Rembrandts has become a recognized leader in art education. What began as one person, working with children in her home, has developed into an international business that teaches drawing to tens of thousands of students every week. Fetter applied her fine arts education and background in child development to create an original, step-by-step method to teach children drawing, the fundamental skill of all visual arts.
Research and education experts say what Young Rembrandts has always delivered: there is a significant correlation between involvement in the arts and achievement in the classroom. Children who learn to draw using the Young Rembrandts method develop spatial reasoning and fine motor skills, order and sequencing abilities, visualization, and self-discipline as well as fundamental art skills. Its original curriculum introduces concrete ideas and techniques that enlarge visual vocabularies, enrich imaginations and develop young minds.
Today, Young Rembrandts partners with pre-schools, elementary schools and community centers to either augment or supply their art education programs, giving children ages 3 ½ to 12 an academic advantage in the classroom. Young Rembrandts has a solid reputation for offering well-organized classes and teaching original, high quality curriculum in a positive environment.