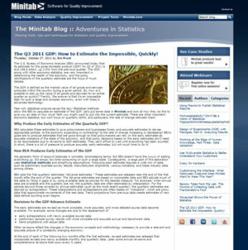 Contributors include statistical trainers, technical writers, support specialists and other experts. With new content added each weekday, Minitab authors keep things interesting by writing about how statistics applies to their daily lives.
State College, Pa. (PRWEB) November 14, 2011
"Statistical thinking will one day be as necessary for efficient citizenship as the ability to read and write," H. G. Wells said a century ago, and his prediction seems to have come true.
The news is filled with the latest data about the economy, health and other aspects of our lives. And in the business world, statistical analysis is critical for understanding trends and customer behavior, not to mention implementing quality improvement methods such as Lean Six Sigma.
But statistics can be difficult and intimidating. Minitab Inc., the leading provider of software for quality improvement and statistics education, has helped people learn and apply statistics for almost 40 years. Now the company's specialists in statistics and quality improvement seek to make statistics more accessible by sharing their insights and experiences online through the Minitab Blog.
Visitors to http://blog.minitab.com may be surprised by the wide array of topics Minitab's authors cover—a quick perusal of posts shows that data analysis and quality improvement techniques can affect nearly every aspect of our lives.
Contributors to the blog include statistical trainers, technical writers, tech support specialists and other experts. With new content added each weekday, Minitab Blog authors keep things interesting by writing about quality improvement and statistics as it applies to their everyday lives and coincides with the news.
"Our authors have an astonishingly wide range of interests, experiences and specialties, and that's reflected in what they write," says Eston Martz, creative services specialist at Minitab, who oversees the blog. "We always write with statistics or quality improvement in mind, but beneath that broad umbrella we've had posts about wedding plans, fantasy football, gas mileage, pierogies, video games and more."
Five of the most popular posts that have appeared on the Minitab Blog in the last few months illustrate the diversity of topics the authors touch on:

The probability of the Boston Red Sox missing this year's playoffs vs. that of Han Solo successfully navigating an asteroid field in The Empire Strikes Back
How married couples can use 5-Why Analysis and Fishbone Diagrams to solve problems
Lessons you can learn about data from The Great Gatsby
An analysis of superhero movies made in the past few decades
How the U.S. government creates quarterly estimates of Gross Domestic Product (GDP)
The breadth of expertise and interests among the authors is deliberate, Martz says, and helps ensure that the blog includes statistical topics relevant for both advanced and novice Minitab users and quality improvement professionals, and everyone in between.
To sign up for the Minitab Blog RSS feed, visit http://blog.minitab.com/rss.php?blog_id=41ce27e8-906e-4260-8bd9-178236c098c4&sid=d7531f1b-242f-4a1c-b54f-f0582f1769bc
About Minitab
Minitab Inc. is one of the world's leading developers of statistical and process improvement software. Thousands of distinguished companies use Minitab software, including Toshiba, DuPont, Boeing, Royal Bank of Scotland, Nestlé and Pfizer. Minitab products are backed by outstanding services, including training, e-learning opportunities, and free technical support.
Minitab Inc., headquartered in State College, Pa., operates offices in the United Kingdom, France and Australia and has additional representatives throughout the world.
###