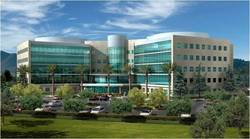 We are really excited to be part of this project, for several reasons
Newport Beach, CA (Vocus) March 18, 2009
Murrieta, CA-- At a time when building and development seem ground to a halt, AGK LLC is moving ahead solidly with their City approved $50-million Murrieta Education Center (MEC) in Southwest Riverside County. The company announced today the selection of Opus West Corporation as the builder for its higher-education center, a large-scale mixed-use project that will generate hundreds of jobs in the coming months. The MEC will front the 215 transition road to the 15 freeway, and serve residents in Riverside, Orange and San Diego Counties.
Opus West Corporation is a member of the Opus Group which is a leader in office, industrial, retail, multifamily and institutional development in the United States and Canada, and was selected for its expertise in large-scale mixed-use projects. With the selection process complete, plans for the facility are ramping into high gear, and groundbreaking has been slated for Fall, 2009.
"We are really excited to be part of this project, for several reasons," says Paul Marshall, Division President of Opus West Corporation. "First, the Murrieta Education Center offers an innovative, affordable approach to higher education. With the economic slowdown, the demand for higher education and new job training has never been greater. It's gratifying to be part of a much-needed solution," Marshall says. "Second, in the middle of a building-industry slowdown, developing a large-scale project and creating jobs represents positive progress. These are indicators everyone is looking for. Finally, we're pleased that in such a competitive environment, Opus West was selected as the right builder."
The Education Center concept created by the AGK Group LLC and Education Realty Group will provide convenient access to a wide variety of affordable educational resources. It will be one of the largest development projects in the city next year.
The Murrieta Education Center spans 11.5 acres and will feature twin 5-story towers available for classrooms and high-end Class "A" office space. The two 72,000-square-foot towers will be connected by a 16,000-square-foot core building with a two-story lobby. A separate 17,000-square-foot building is proposed for retail tenants providing food and other services to main building tenants.
The Education Center concept is the vision of A.G. Kading, managing partner of AGK LLC. "We're extremely pleased to have Opus West Corporation on board with us," said A.G. Kading. "The company has achieved an enviable reputation for quality throughout its 56-year history. We believe Opus West Corporation not only has the experience to develop this project according to the highest possible standards, but that they also share our vision and can enrich it."
Ultimately, the Murrieta Education Center will provide workforce development, continuing education through satellite campuses and technical training. This center will offer undergraduate, graduate level and continuing adult education opportunities to residents of Riverside, Orange and San Diego.
The proposed center is close to Promise Preschool and not far from the Riverside County Office of Education's proposed Murrieta Regional Education Center.
The micro campus concept embodied in the Murrieta Education Center is an accessible and affordable alternative to traditional four-year campuses, which have not expanded to meet the educational needs of a growing population. Better educational facilities mean higher worker salaries and bringing the region's emerging technology base closer to the research and development. Additional centers are being planned for in Sacramento, CA and Phoenix, AZ.
The AGK Group LLC is a real estate development company that focuses on today's needs and requirements of the future. The firm provides innovative business, educational and residential solutions. AGK Group has delivered a number of quality industrial, retail, residential and mixed-use projects throughout the Western United States.
For more information contact:
Peter Bretschger
949-833-3822
###