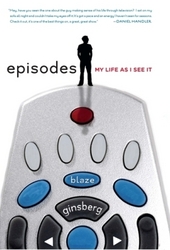 The teachers really inspired Blaze to think and to write creatively, which you don't get in most schools. Students get the structure of writing and also get to be creative. Who knows if he would have had the ability to do this without the school?
Del Mar, Calif. (Vocus) December 3, 2009
Twenty-two-year-old Blaze Ginsberg paced around the building of his alma mater The Winston School to calm his nerves before facing an auditorium filled with students and teachers. The 2006 graduate was back on campus to talk about his uniquely formatted autobiography titled "Episodes: My Life As I See It," that asks "What if all the recurring events in our lives were like those on a television show?"
Adding to his heightened anxiety was the fact that this was the one audience that really knew the magnitude of his accomplishment. Each shared the common bond of attending a school that specializes in teaching students with learning differences and needs not generally met through traditional school settings. And many of the older students and teachers had witnessed the brilliant but quirky teen's struggle with learning differences that brought him to the school in the 9th grade and literally sent him running from English class well into his senior year.
Blaze's mom author Debra Ginsberg, who has written five books, including "Raising Blaze" and "Waiting: The True Confessions of a Waitress," said her son started writing "Episodes: My Life as I See It" while a student at Winston because of "the excellent classes and the encouragement to get his thoughts across with his writing."
She said his idea for the book continued to flourish after school while he spent hours scanning the Internet movie site IMDB.com and TV.com. "He researched TV shows and studied the lists of episodes, the cast, the goofs, the soundtracks all the while thinking of his own life as a TV series -- going so far as to picture his freshman year as a TV show with soundtracks. I thought that was a very interesting way to look at things so I encouraged him to keep writing."
Blaze said he didn't actually set out to write a book and said once he finished it he doubted it would go anywhere. "I thought I was going to get rejected but to my luck, which is rare, it got published." Debra added, "He was a bit removed from it. It took me 20 years to get a book published, but Blaze did it his first time out."
As noted in the book's jacket cover, Blaze based the book's structure on the IMDB.com and TV.com formats, organizing life events as a collection of episodes. "Some are ongoing (like Thanksgiving dinners with the family), some are in syndication (as he relives memories in his mind), and some (his crush on Hilary Duff, for example) have sadly come to an end. (For excerpts of episodes detailing his heart-rending and often funny crush on Hilary Duff crush please visit (http://www.blazeginsberg.com/images/Pages_from_Hilary_Duff_2.pdf )
Sharing examples of his episodic story-telling, Blaze read a book excerpt from Episode 1, Season one, "air date" September 3, 2002: "It is my first day of high school and it is somewhat nerve-wracking. I enter the school before class starts. I see Courtney but turn away from her because I'm feeling shy. Later on I report to class. My day starts off with Physical Science. I am a bit spacey because I have not had to sit and listen in class for quite some time. It ends all right. After that I report to Math and I need a VTO (voluntary time out) because I am antsy and need to walk around. I am allowed ten minutes and then I go back."
Following the episode summary, Blaze includes quotes, trivia and an accompanying soundtrack listing. The quotes for this particular "show" include: Me: "Can I get a VTO, please?" (Teacher writes one up.), me: "(seeing that the VTO paper says 'Student Referral"): "What? I'm in trouble?" followed by teacher: "Oh no, that's just what it says. It's fine, it's a VTO." Then he provides the support trivia: "A VTO is when you get ten minutes to leave class and walk around the school or sit on the bench to chill yourself out. You get one VTO per class per week. If you abuse the privilege, by staying out of class for too long, you get sent to the office and get your VTOs temporarily suspended." All of this is set to the soundtrack listing: "Bird of Beauty" by Stevie Wonder (Fulfillingness' First Finale 1974), which he notes he selected because "This song plays because it goes really well with running laps. I like the way it makes me feel."
Answering questions from the audience, Blaze said the most exciting thing about being a published author is public speaking, which he clearly relished. Other questions such as "Do people come up to you," "Do you consider your life to be one big TV Guide?" and "If the book is made into a TV show would you have already cast the parts," all got his characteristically direct one-word answer, "No." When asked if he considers himself a celebrity he said "Yes" and added that he is thinking about writing as a career. "The book was easy to write and I enjoyed every minute of it. I love being an author." Evidently the editing process wasn't quite as enjoyable. When asked how he decided what to cut out, he got a laugh when he answered, "It was decided for me."
His English and history teacher, Jeff Koslowski who vividly remembers Blaze's frequent bolts from class smiled asking, "Having taught you English and knowing you hated writing -- what changed your mind?" In his typical directness, Blaze responded that he preferred writing about what he chooses to write about. Blaze's mom Debra expanded by emphasizing that she felt Mr. Koslowski and the other teachers were instrumental in Blaze's success. "The teachers really inspired Blaze to think and to write creatively, which you don't get in most schools. Students get the structure of writing and also get to be creative. Who knows if he would have had the ability to do this without the school?" She told the students, "You all are very lucky."
When asked what he thought about college, he said he'd "rather not get into that right now." But when asked about writing another book he was ready to talk. He said it took him two years to write this first book and that he already has "one long series" that he hopes will become a book and possibly a sequel. In closing, Blaze also recognized his teacher and the school's head of speech and language pathology Miss Julia Kiel who "was the most patient and had the most skills to know what would make me succeed."
"Episodes: My Life as I See it," is available in the young adult/teen section of Barnes and Noble and Amazon.com. There is also an audio book available on iTunes and on CD. Blaze and his mother are included in the audio version along with an actor who reads the book using what Debra called "an interesting interpretation of Blaze with different voices for each character." For more information please visit Blaze's web site: http://www.blazeginsberg.com .
ABOUT THE WINSTON SCHOOL
The Winston School is a college preparatory program for children with learning differences in grades 4 through 12. A group of pediatricians and parents in San Diego founded the school in 1988 for bright children whose needs were not being met in traditional school settings. The school is the only college preparatory school in San Diego County that provides education to an equal mix of privately enrolled and publicly funded students placed by the school district. Students such as those struggling with dyslexia, dysgraphia, dyscalculia, ADD, ADHD, specific learning disabilities or learning disorders, nonverbal learning disorders and slow maturation find what they need in the school's small, safe and caring environment. By incorporating small classes, multi-sensory teaching methods and individual attention, the school's faculty works together to help students fulfill their academic, physical, artistic, social and emotional potential. In the past 20 years, The Winston School has educated nearly a thousand students, preparing them for college and for the working world. This year's graduating class has been accepted by 22 colleges. Each senior who applied at a two or four-year-school received at least one college acceptance. Tuition is $15,985 a year. Scholarships are available. The Winston School is accredited by the Western Association of Schools and Colleges. The school is located at 215 Ninth St., Del Mar, Calif., 92014. Those interested in receiving information can email mindy(at)thewinstonschool(dot)com or call the school at 858-259-8155.
Contact: Karin Olsen / AMAZONpr / karin(at)amazonpr(dot)com / 310-497-0052
###